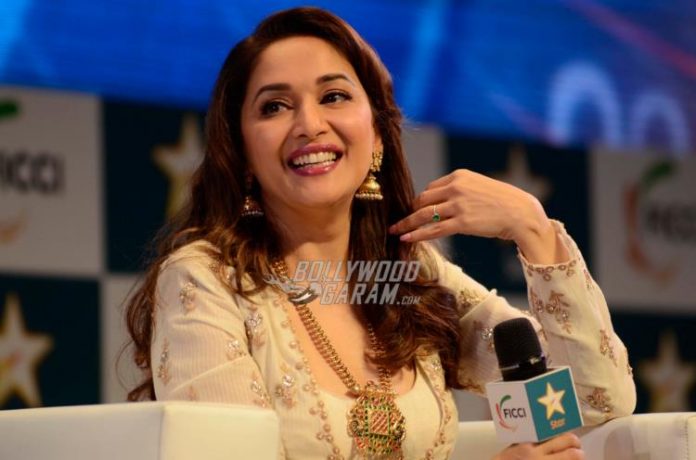 Madhuri Dixit and Sanjay Dutt were in a relationship during the '90s that would be relayed on the big screen
The '90s were a time to remember, and a time to forget for those who have bad memories about that era. And when it comes to Madhuri Dixit, there are some memories she doesn't care about any more. It was during that time that she and Bollywood bad boy, Sanjay Dutt were in an alleged relationship. That one didn't last long, and Dutt got together with Rhea Pillai, who he married a couple of years later. But that memory of a long forgotten relationship has come back to haunt her. Sanjay Dutt's biopic is now being created for the big screen, and will include all the biggest aspects of his eventful life.
There were reports that Madhuri Dixit and Sanjay Dutt's past relationship will be brought back to life in the upcoming biopic. And there were also rumours that the Dhak Dhak girl was not happy with any reference to her being made in the film. It was said that she allegedly asked Rajkumar Hirani to remove those scenes from the biopic. Now, the actress herself has come clean about those rumours. "For where I am today, this has become redundant. Life has come a long way since then. I don't know where these reports are coming from. In any case, it doesn't make a difference to me."
But Madhuri Dixit's influence has apparently reached the filmmakers, who are working on changing the script. One report says that Karishma Tanna will be playing the role of the star in the biopic, while another report says that Sonam Kapoor will play the part of Sanjay Dutt's girlfriends, all rolled into one.
In any case, it would be embarrassing for anyone to have a past relationship played out to audiences like that. Especially after Madhuri Dixit is well settled down with Dr. Sriram Nene. Even Sanjay Dutt moved on and married former item girl, Manyata and the two have beautiful twins together. And when a biopic is being created, it is important to get the consent of everyone who's story is being involved.
Ranbir Kapoor will be playing the role of Sanjay Dutt for the biopic. He has to go through seven different looks to portray the different life stages of Deadly Dutt.
Image Credit: Viral Bhayani