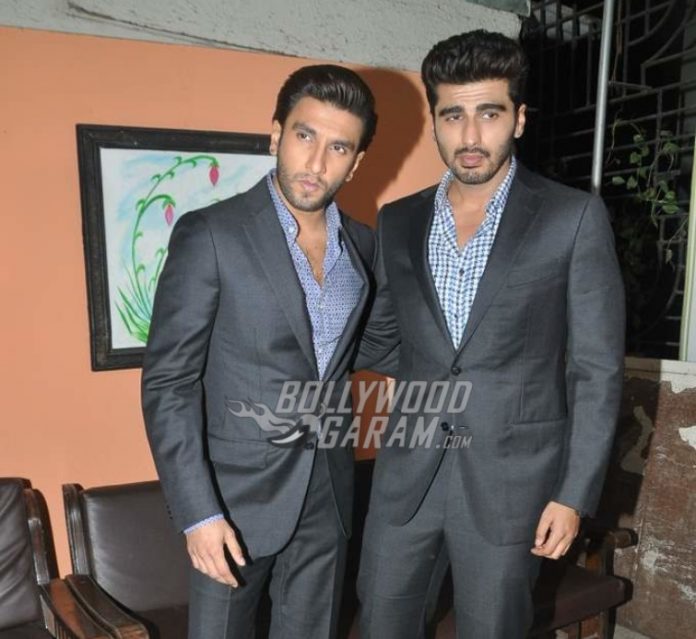 Arjun Kapoor declares his love for Ranveer Singh in funny video on Instagram
Co-stars and BFFs, Arjun Kapoor and Ranveer Singh are the hottest couple of Bollywood! The brothers-from-another-mother love each other, and aren't shy to tell it to all the world. Arjun Kapoor posted a video to his Instagram account recently and introduced his Gunday co-star in the most unique way, calling Ranveer Singh, "A little more than a co-star and a little less than a life partner." To which the Befikre actor responded, "I am Arjun's real Half Girlfriend." He then goes on to push Arjun's co-star, Shraddha Kapoor, out of the way! The short video was captioned: "Co-star Se zyada… Lover Se Thoda Kam @ranveersingh… My #HalfGirlfriend Now tell me about your #HalfRelationship".
This camaraderie that the two stars share is not just for the cameras. They are the closest pals in the industry, and often poke fun at each other on social media, much to the amusement and entertainment of their millions of followers. They even appeared on Koffee With Karan Season 5, talking about their friendship that extends beyond shoots. The bromance is really thrilling to watch, and is like a breath of fresh air in a usually competitive industry.
Half Girlfriend is the upcoming film starring Arjun Kapoor and Shraddha Kapoor. It has been adapted from the bestselling novel by celebrated author Chetan Bhagat, of the same name. Arjun Kapoor plays the role of a boy from a more rural background, who gets admission to a city university. There, he meets a stylish girl with a more broad minded attitude. The two get into a unique relationship, which Shraddha Kapoor's character calls "half girlfriend". The story follows their romance and pairs Arjun Kapoor and Shraddha Kapoor for the first time opposite each other. The film is directed by Mohit Suri and will release in theatres nationwide on May 19, 2017.
Image Credit: Viral Bhayani