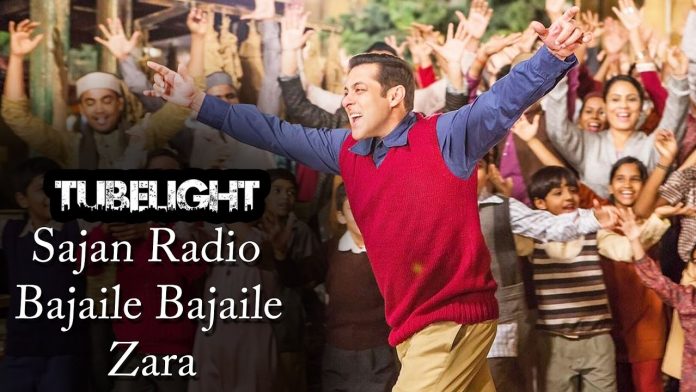 The Radio Song is the latest track released from Salman Khan's Tubelight
Salman Khan fans who are eagerly awaiting the release of his latest flick Tubelight, are in for a treat! Bhaijaan released a brand new song from the film, called The Radio Song. The star is currently in the Middle East, and decided to launch the song in Dubai. The Radio Song has been choreographed by celebrated dancer, Remo D'Souza. Kamaal Khan has lent his voice to the track.
Speaking during the launch of The Radio Song speaking about the premise of the track, Salman Khan said, "The song is called Radio because the good news that my brother is alive and is coming back, is announced on the radio."
Director of Tubelight, Kabir Khan also spoke about The Radio Song, saying, "It's a celebratory song at the end of the war. It's set in 1962 when the radio was essentially the only medium through which news could be obtained. Everything, from entertainment to news, came through radio. But it was a big song. Remo had done a very nice number Selfie Le Le in Bhajrangi Bhaijaan. We needed the same kind of scale and energy and fun. So Remo designed it over 300 acres and we had 700-800 dancers and 1,000 extras."
Tubelight also stars Salman's brother, Sohail Khan, who portrays the role of a soldier. When asked about what it is like to work with his brother, Salman replied, "It's easy. We have an understanding and an equation. We have done Maine Pyaar Kyun Kiya? and so many films together. We come straight from home to set."
Tubelight is a film set during the Indo-Sino war in the 1960s and sees Salman Khan in a whole new avatar. The official movie posters have already been released, along with teaser trailers that have received rave reviews. The film stars Salman Khan, Sohail Khan and Chinese actress Zhu Zhu, who makes her Bollywood debut. The film is directed by Kabir Khan and produced by Salman Khan Films.
Salman Khan is currently in Abu Dhabi shooting for his next film, Tiger Zinda Hai with Katrina Kaif. The film is sequel to their previous hit together, Ek Tha Tiger. The two are having a blast, and Kaif today posted an image of her and a shirtless Khan on Instagram.