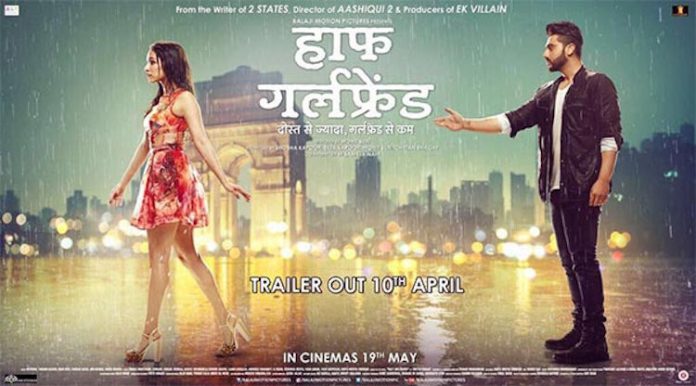 Mohit Suri and Chetan Bhagat's Half Girlfriend movie adaptation falls flat
Movie name – Half Girlfriend
Director – Mohit Suri
Cast – Shraddha Kapoor, Arjun Kapoor, Rhea Chakraborty, Vikrant Massey, Seema Biswas
Bollywood Garam rating – 2/5
Based on Chetan Bhagat's eponymous novel, Half Girlfriend stars Arjun Kapoor as Madhav Jha, a straight-from-the-village boy who falls in love with his college-mate Riya Somani, a rich English-speaking Delhi girl played by Shraddha Kapoor. As the title suggests, Madhav soon finds himself in a tortuous relationship with someone who becomes his 'friend se thoda zyada, girlfriend se kaafi kam', to use the oft-quoted line from the film.
The introductory scenes are the more entertaining, as we watch Madhav stumble his way into Delhi's prestigious St. Stephen's College on a basketball scholarship. Barely able to speak English, he is at once enchanted by the beauty of Riya Somani, who he meets for the first time on the basketball court. Part of Delhi's high society, she barely shows any interest initially in Madhav's more rustic charms, but they eventually bond over their shared interests in basketball and music.
As Madhav is forced to navigate his way through the convoluted layers of the dreaded 'friend zone', he is constantly admonished for his infatuation with Riya by his hostel roommate Shailesh Pandey (played by Vikrant Massey, who delivers an inspired performance in his supporting role). Madhav, of course, pays no heed to his friend's warnings, and dives even deeper into his pursuit of unrequited love. Riya's non-negotiable stance eventually frustrates him to the point of despair, making it difficult even for the audience to feel empathy for her character.
Madhav's quest to make Riya his 'full girlfriend' takes him from Delhi to Patna to New York, and even involves a hologram version of Bill Gates. Unfortunately, none of the twists in the storyline have any real substance or rise above disappointing clichés. The movie itself seems confused about what it wants to achieve – whether it's addressing the societal issues of a Hindi-English divide, the complexities of love and relationships, women's empowerment or the need to move on in life.
Neither Arjun Kapoor with his thick vernacular accent, nor Shraddha Kapoor in her role as an unattainable diva, give much life to their already flawed characters. Director Mohit Suri intersperses the film's thin storyline with songs from the soundtrack, of which 'Phir Bhi Tumko Chaahunga' is probably the most memorable track, featuring Manoj Muntashir's moving lyrics. It is mostly a relief to come to the end of the near two-and-a-half-hour running time, as Half Girlfriend disappointingly falls well short of its pre-release expectations.