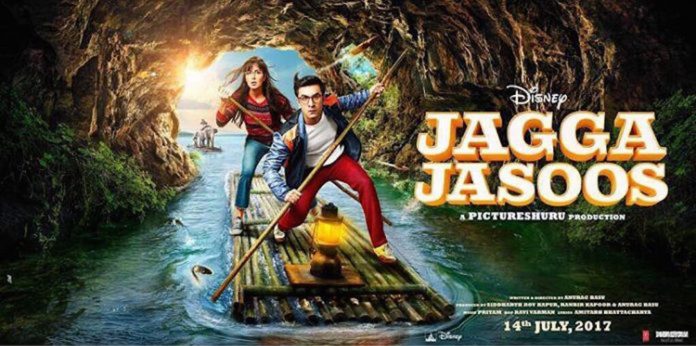 Jagga Jasoos starring Ranbir Kapoor and Katrina Kaif has finally got a release date and official movie poster!
Fans will not have to wait much longer to see a loveable pair back on the big screen together again! Katrina Kaif has shared the brand new poster for upcoming film Jagga Jasoos with Ranbir Kapoor. What's more, the release date has also been officially set to July 14, 2017! The gorgeous star captioned her Instagram post with – "It's official … new release date  July 14th ! 2 days before my birthday , sorry had to get that in #JaggaJasoos @utvfilms @anuragbasu @disneyindia"
Jagga Jasoos is a musical romantic comedy film that stars Ranbir Kapoor and Katrina Kaif in the lead roles. The story follows Ranbir, a teenage detective, who is in search for his long-lost father. The film also stars Adah Sharma and Sayani Gupta, who plays a young girl. The film is produced by Siddharth Roy Kapoor and Anurag Basu and is being distributed by Disney India and UTV Motion Pictures. The music for the film, that involves 29 tracks, has been done by famed music producer, Pritam.
Jagga Jasoos has taken three years in the making. The production for the film began in 2014, and has only been completed now. There were reports that Anurag Basu was not happy with the shots of Ranbir taken. Along with re-shooting, the lead actors cited date issues. If one can recall, it was during that time that the personal relationship between Ranbir Kapoor and Katrina Kaif turned sour. However, they've managed to put their differences aside and finally completed the movie together.
This will be the first major musical being created in Bollywood. With just a couple of month left for the movie to release, promotions for the same should begin soon enough!