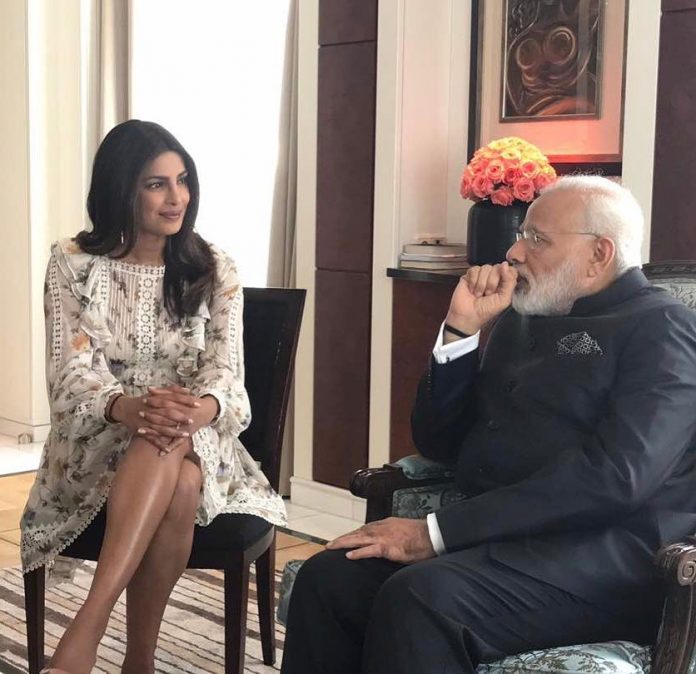 PM Narendra Modi met with Priyanka Chopra in Berlin during his tour of Europe
International star Priyanka Chopra is in Berlin for the promotion of her Hollywood debut, Baywatch. And she also had the fortune of meeting with Indian Prime Minister Narendra Modi, who is currently on tour of Europe, starting from Germany, then Spain, Russia, and finally France. PeeCee later expressed how lucky she is that the Prime Minister of India took some time off from his busy schedule to meet her. The two happened to be in Berlin at the same time.
Priyanka Chopra tweeted an image posing with the PM and captioned it as, "Thank you for taking the time to meet me this morning @narendramodi Sir. Such a lovely coincidence to be in #berlin at the same time. ????"
She also shared another picture on her Instagram account and wrote, "Was such a lovely coincidence to be in #berlin?? at the same time as the Prime Minister. Thank you @narendramodi Sir for taking the time from your packed schedule to meet me this morning. ??."
Soon after the images were posted to Instagram, trolls began mocking the Quantico actress, saying that she should have worn more "decent" clothing. They slammed her for not wearing the traditional salwar kameez and mocked her sitting posture, saying she was being disrespectful to the Prime Minister. Priyanka Chopra is yet to respond to the trolls.
PM Narendra Modi reached Germany on May 29, 2017, to meet the German Chancellor Angela Merkel. They had a discussion on a range of bilateral, regional and global issues like the Brexit consequences, trade, and radicalisation in the context of recent terror attacks in Europe.
An official statement by the Prime Minsiter's Office stated that "The interaction lasted nearly three hours, and covered various areas of mutual interest including smart cities, skill development, clean energy etc. There was an appreciation for India's economic reform agenda, including GST (Goods and Services Tax)."
Meanwhile, global actor, Priyanka Chopra is busy with the promotions of Baywatch. The film has already released in the US and is set to hit Indian theatres on June 2, 2017.
Thank you for taking the time to meet me this morning @narendramodi Sir. Such a lovely coincidence to be in #berlin at the same time. ???? pic.twitter.com/vLzUSH5WR1

— PRIYANKA (@priyankachopra) May 30, 2017
Next time please show some sense and manners and wear something more appropriate. Not expected such demeanour.

— Wandering Soul (@DaOriginalSinna) May 30, 2017
U might be a good actress, but u could have dressed better when meeting PM !!

— Aman (@aman_r7) May 30, 2017
Photo Credits: Official Instagram and Twitter Accounts of Priyanka Chopra