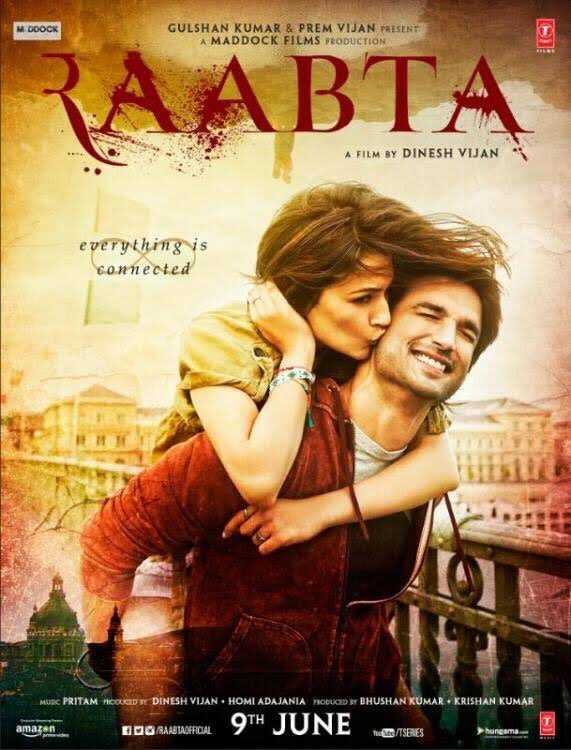 Movie name – Raabta
Director – Dinesh Vijan
Cast – Sushant Singh Rajput, Kriti Sanon, Jim Sarbh and Varun Sharma
Bollywood Garam rating –  2.5/5
Directed by Dinesh Vijan, Raabta released on June 9, 2017. The film is based on the love story depicted in two different eras, both connected to each other. The tagline of the film says 'Everything is Connected'. Raabta is a story of two lovers, Shiv (Sushant Singh Rajput) and Saira (Kriti Sanon) who get attracted to each other and fall in love. Their love dates back to centuries ago.
The story starts with the duo working in Budapest. Shiv is a Punjabi and is a flirtatious guy, whereas Saira works as a cook. The film revolves around reincarnation and souls. Shiv and Saira seem to have nightmares of their previous lives. Finally, Shiv and Saira meet and they fall in love. There is some kind of connection which hooks you to the movie and creates a curiosity amongst the audience.
Water seems to play an important role in the lives of the characters. Shiv and Saira, both have flashes about drowning. The images are just blurred and nothing is coherent till now. Shiv is an extrovert whereas Saira is an introvert, which keeps both of them attached to each other. At times, one feels that the chemistry is forced.
And then enters the villain, Jim Sarbh aka Zakir Merchant. Saira is attracted to Zakir due to her past life connection with him. Jim plays his part really well. One could really get attracted to his role. A triangle has been formed between the trio. There is a karmic connection seen between the three of them. There is something from the past that keeps the three attached to each other.
Saira is drawn towards Zakir but also has thoughts for Shiv. Saira is stuck up between the two.
Raabta is slightly mysterious and after the break, it is all about suspense, questions, and choices.
The background and setting of the characters' past lives are unique. There is a completely different kingdom with its people and traditions. Remnants of the three's past lives stay with them in their present lives. The story gets more intense and darker.
It is all about karmic connections, past life conflicts, love, and passion. There are a few questions that have been left unanswered. It feels like something is missing and the plot has been left unexplored. The bridge between the two eras and the characters' lives could have been more specified and defined.
Raabta is good as a whole but lacks bits and parts here and there. Sushant, Kriti, and Jim have done an amazing job in the film.
Image Credit: IMDb.com