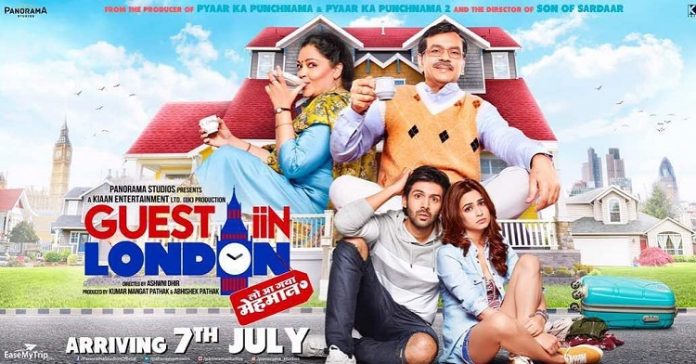 Guest Iin London which was due to release on June 16, 2017, will now release on July 7, 2017. It is a comic drama starring Kartik Aaryan, Paresh Rawal, Tanvi Azmi, and Kriti Kharbanda in the lead roles.
Lead actor Kartik Aaryan posted the new poster for the film on Instagram and captioned it as, "Ghar ke andar nahi Upar hi baith gayein ?#GuestiinLondon now releasing on 7thJuly"
He also shared a picture of him with Paresh Rawal on Twitter and wrote, "Thank God Ye mehman dimaag khaane ab thoda late ayenge #GuestiinLondon now releasing on 7th JULY @SirPareshRawal"
Guest Iin London is a story about a couple whose life takes a turn after another couple stays at their home as guests. The trailer of the film has already evoked laughter in the audience. The grooving songs of the film have also got a good response from fans.
According to reports, Guest Iin London is a sequel to 2010 film, Athithi Tum Kab Jaoge which featured Ajay Devgn, Paresh Rawal, and Konkona Sen Sharma but the director of Guest In London revealed that both the films are entirely different from each other. There is no connection between the two.
Ashwni Dhir, the director of Guest Iin London told PTI, "This has nothing to do with Atithi…, only the name 'guest' is there which is drawing similarity. I wanted to make a clean, family comedy with real emotions. My screenwriter and I had a concept and then we worked on it. Many people thought it is a sequel, but it isn't anywhere related to that film. The film highlights the social and cultural differences between the two generations. The aim behind this sequel is to reach to every family and not just the peer groups."
Talking about his co-star Paresh Rawal, Kartik Aaryan said, "I've learned a lot from him, and it has helped me have a different approach towards my craft, especially comedy, which will reflect in my performance in Guest In London. The film strikes a balance between good content and factors that appeal to the masses."
Thank God Ye mehman dimaag khaane ab thoda late ayenge?#GuestiinLondon now releasing on
7th JULY@SirPareshRawal ?https://t.co/T2JfLxlu9K pic.twitter.com/3kEWYVKwA7

— Kartik Aaryan (@theaaryankartik) June 10, 2017
Picture Credits: Official Instagram Account of Kartik Aaryan