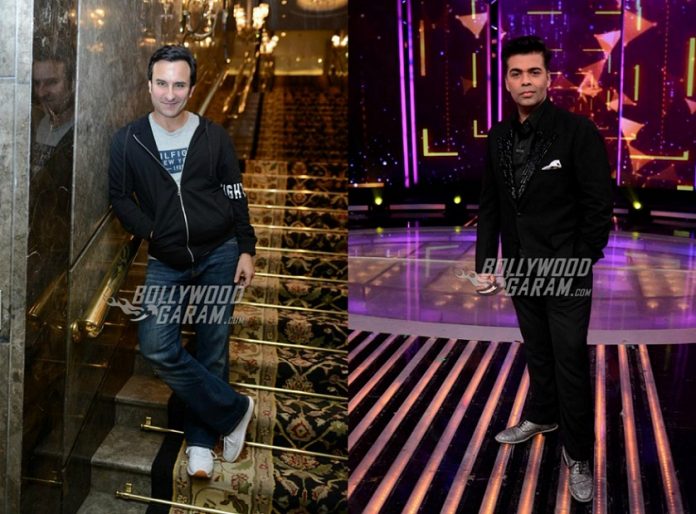 It's finally out! IIFA Awards 2017 will be hosted by none other than Saif Ali Khan and Karan Johar. While the two have previously hosted award shows individually, including the Filmfare and Stardust Awards, this will be their first time hosting IIFA Awards together. But that's not all – Varun Dhawan too will be co-hosting a segment of the prestigious awards night with the duo. The Badrinath Ki Dulhania actor will also be performing live the same evening. Exhilarating, isn't it?
Director/ Producer Karan Johar, who has previously hosted IIFA Awards 2005, confirmed the news with several leading media outlets and said, "IIFA is the most awaited international award function of the Indian film fraternity. I am excited and look forward to hosting the 18th Edition of the IIFA Weekend And Awards. New York will be spellbound with the magic of IIFA!"
To which his to be co-host Saif Ali Khan added "I am happy to be back to the IIFA stage this year as I join my close friend Karan Johar to host the IIFA Awards in New York. The excitement for IIFA has been steadily growing worldwide. This year it's going to be super fun and glamorous in every way as Karan and I are going to have lots of surprises in store for our fans internationally!"

Also read – Celebrities who are going to perform at IIFA 2017
This would be Varun Dhawan's debut at IIFA and we are as excited to see him. While interacting with the media at an event, Varun gleefully mentioned, "I am absolutely excited to be a part of IIFA Awards in New York this year. I'm looking forward to joining everyone and see fans at the amazing MetLife Stadium. This year is truly going to be a grand celebration and I can't wait to be there!"
IIFA Awards is a bomb of a show which everyone eagerly waits for every year. This year the IIFA Awards will be held at New York's MetLife Stadium from July 14 – 15. Stay tuned to catch latest updates on the hottest award show exclusively on Bollywood Garam.