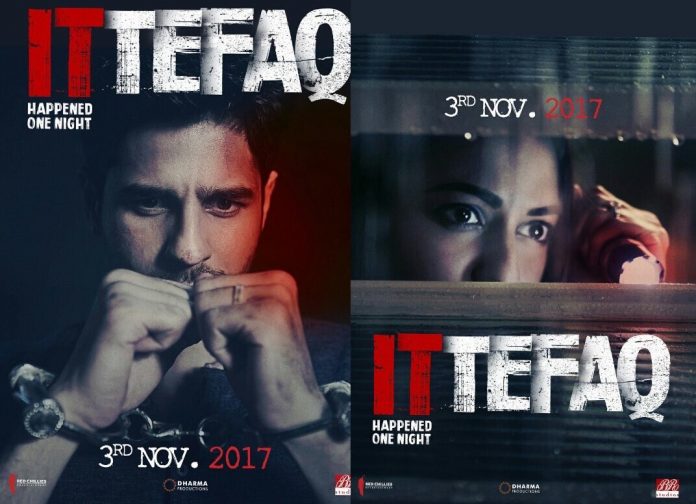 Upcoming film Ittefaq starring Sidharth Malhotra and Sonakshi Sinha in the lead roles, has its first look and poster released by filmmaker Karan Johar. The film is the remake of the cult hit of the same name starring the late Rajesh Khanna and Nanda, and was released back in 1969.
The poster for the the film reads with the caption: "Ittefaq happened one night." Johar posted the image through his official Twitter handle, with the caption: "Was it an #Ittefaq or not? Find out on NOV 3…"
Another poster released for the film has lead actor Sidharth Malhotra, and Karan Johar shared his first image from the flick through Twitter, captioning it: "There are some dark secrets we will reveal tomorrow."
And still another poster shows the return of veteran star Akshaye Khanna, who will be playing the antagonist in the film. This is the first film he will star in after the tragic passing of the legend Vinod Khanna. His image was captioned: "Only HE can divulge if it's an #Ittefaq or not!"
The original Ittefaq was directed by B R Chopra's brother, Yash Chopra. The film was famous for not having any tracks, but just one background score used throughout the film. The film was actually a remake of Signpost To Murder, a British film that was released back in 1964.
2017's Ittefaq is being recreated by Abhay Chopra, the grandson of B R Chopra. It is slated to be released on November 3, 2017. The film is a psychological thriller about a man who is accused of murdering his wife, but can't remember his actions. After escaping from an asylum, he finds solace in the house of a strange woman, who also seems to be hiding something. What really happened on that fateful night and will redemption be found for the wrongly accused? You will just have to wait and see!
There are some dark secrets we will unveil tomorrow #IThappenedonenight @S1dharthM @sonakshisinha #akshaye @junochopra @abhayrchopra @iamsrk pic.twitter.com/e2OhwTvlU4

— Karan Johar (@karanjohar) June 29, 2017
Only HE can divulge if it's an #Ittefaq or not! #IttefaqonNov3 #AkshayeKhanna @S1dharthM @sonakshisinha @iamsrk @abhayrchopra pic.twitter.com/NGmP2joylM

— Karan Johar (@karanjohar) June 30, 2017
Image Credit: Twitter