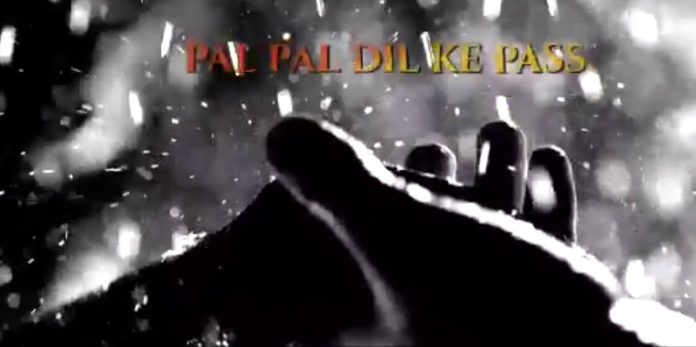 Karan Deol, Sunny Deol's elder son is all set for his big release and busy shooting under dad's direction.
2017 has been quite the year for newcomers in the Hindi film industry, not to say they are mostly star kids who are awaiting their big launch. After the action-packed movies where Sunny Deol's anger rested in his dhai kilo ka haath; comes his son, Karan Deol to show his mettle with his new launch, Pal Pal Dil Ke Paas (PPDKP) under dad Sunny's direction.
Though Karan bears an uncanny resemblance to his dad, we can only hope that the son does not do similar movies and be the angry young man in all of his movies like his daddy dearest.
In a recent social media post, Sunny Deol shared a picture of his son at the sets of the new film in Manali, saying, "Started #palpaldilkepaas…Karan's first day at shoot…can't get enough..my boy has grown big #love #actor #life."
Started #palpaldilkepaas .. Karan's first day at shoot.. can't get enough.. my boy has grown big #love #actor #life pic.twitter.com/yf2kyAZFr4

— Sunny Deol (@iamsunnydeol) May 22, 2017

Many Bollywood biggies have since wished luck to the budding actor from the Deol family — the likes of Shahrukh Khan who believes Karan "looks as tough and gentle" as papa Deol; Salman Khan who welcomed him to Bollywood and Rishi Kapoor who congratulated and encouraged the Deol grandson for his first film.
Pal Pal Dil Ke Paas is reported to be an action romance casting newbies in the lead – an 18-year old Shimla-based model, Saher Bamba will play the female lead opposite Karan.
Uncle Bobby Deol too shared his excitement and extended support for his nephew and was happy that his brother will be "donning the director's hat." It is likely that Bobby may also be a part of PPDKP since the pictures of the shoot and Sunny's tweets in Manali feature both the brothers on location.
Sunny warmly acknowledged the support that he and his son recieved from friends, family and the film industry:
When life is a dream! Thank you fans, family & friends for the love,support & blessings showered at Karan #palpaldilkepaas #manali #grateful pic.twitter.com/LOFjvOCejc

— Sunny Deol (@iamsunnydeol) May 30, 2017
If reports are to be believed, Sunny will be continuing with his Ghayal franchise, albeit the latest one in this franchise, Ghayal Once Again (a sequel to Ghayal released in 1990) got ghayal (did not do well) at the box office last year. PPDKP will be released under the helm of Sunny, produced by Dharmendra and co-produced by Vijyeta films, the entertainment company owned by Deols.
The Deols are also busy with other releases that will see the brothers coming together on screen for movies such as Poster Boys, along with Shreyas Talpade as the debutant director in Bollywood. Speculations are ripe that they might also be seen together in Yamla Pagla Deewana 3 this year itself.
Trailer out today at 1:30 PM #posterboystrailer #posterboys @thedeol @shreyastalpade1 pic.twitter.com/dtWaMTapCm

— Sunny Deol (@iamsunnydeol) July 24, 2017
Here's the teaser of Karan's debut movie that released on Valentine's Day this year:
Love is in the air with #palpaldilkepaas … #happyvalentinesday!! pic.twitter.com/M6Mr8oXXkI

— Sunny Deol (@iamsunnydeol) February 14, 2017
Photo Credits: Twitter