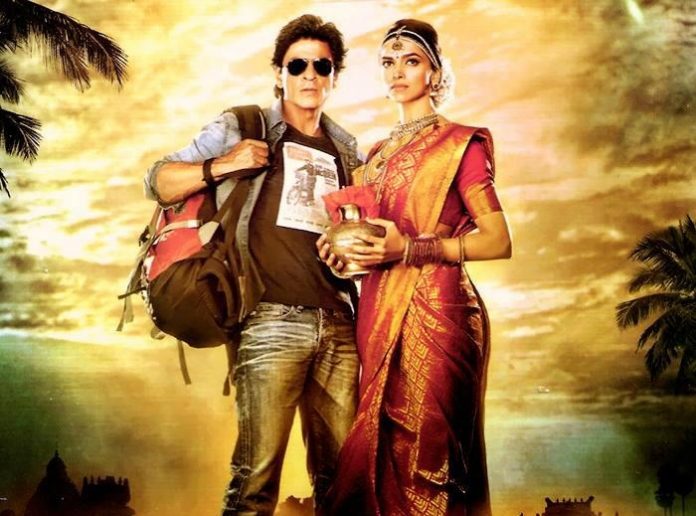 Movie: Chennai Express
Cast: Shahrukh Khan, Deepika Padukone, Sathyaraj and Nikitin Dheer
Director: Rohit Shetty
Release Date: August 9, 2013
Bollywood Garam Rating: 4/5 stars
Bollywood star Shahrukh Khan is back once again along with his 'Om Shanti Om' co-star Deepika Padukone with the new Rohit Shetty flick 'Chennai Express'. With Rohit Shetty onboard, one can expect plenty of action and some comedy which has always been King Khan's forte.
The story of the movie is about Rahul, played by Shahrukh, who accidentally ends up in a south Indian village after he meets Meena Amma, played by Deepika, after which his life changes. Shetty has infused all the elements of a blockbuster Bollywood film in Chenna Express including intense drama, action, comedy, songs, car chases and of course –  a big star cast.
There is plenty of Tamil language used in the movie, but sadly, there are  no subtitles offered to the audience, but the good part is that despite the fact that most of the spoken lines are in Tamil, it seems to be more or less understood with no need of translation. Another good part is that Shahrukh is back to playing the romantic lead role, which he is always good at and has proved himself over and over again in the past.
Deepika too has done her bit to perfection. The actress has done a pretty good job with the Tamil accent and her costumes really make her role stand out in this movie. In terms of script and content, the movie has earned well, but just a few factors like lighting, make-up and zooms might face a thumbs down, but nonetheless its sure to fare well at the box office.
All in all, a great movie to enjoy this long weekend, Deepika and Shahrukh make a very interesting onscreen couple with just the right hint of chemistry and flawless acting. Definitely worth watching, don't miss it.
Check out the official Chennai Express trailer video: