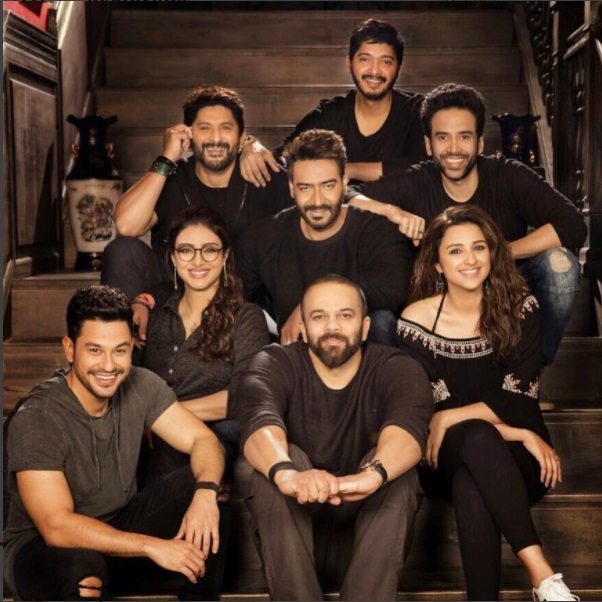 Director Rohit Shetty has completed shooting for Golmaal Again and seasoned actor Arshad Warsi has tweeted to confirm the shoot wrap.
The franchise began in 2006 with Golmaal: Fun Unlimited and the movie was quite a raging hit with the audience. Since then there has been much that this movie and its director, Rohit Shetty have accomplished. It is now time for the Golmaal franchise's upcoming fourth installment, Golmaal Again to wrap up its shooting.
The comedy action drama that is the Golmaal franchise has never been a disappointing entertainer, mainly the reason why it has continued with the franchise and as actor Arshad Warsi, who has starred in all the Golmaal movies since 2006 claims, "the ride keeps getting crazier and crazier."
Warsi, 49, took to Twitter to share a fun picture of himself with actors Kunal Khemu and Tusshar Kapoor along with background dancers and captioned the photo: "And it's a wrap…Fourth time around and the ride keeps getting crazier and crazier."
AND ITS A WRAP… 4th time around & the ride keeps getting crazier & crazier… pic.twitter.com/gqGyDQXwYy

— Arshad Warsi (@ArshadWarsi) August 21, 2017
The actors Kunal Khemu, Tusshar Kapoor, Ajay Devgan, Sanjay Mishra, Neil Nitin Mukesh, Johnny Lever and Shreyas Talpade along with Parineeti Chopra and Tabu are a part of Golmaal Again. In the previous three installments, Sharman Joshi, Rimi Sen, Kareena Kapoor Khan, Paresh Rawal and Sushmita Mukherjee were featured among others.
This time the movie has been reportedly shot in Goa, Ooty and Hyderabad apart from Mumbai.
Meanwhile, it is interesting to note that Parineeti has shared her Golmaal Again shoot stories on Twitter.
Excitttteeeeeeeeee! @ParineetiChopra's coming home ? #GolMaalAgain #shoot #BombayBound #InstaStories pic.twitter.com/Ti2Rhcp8zj

— YRF Talent (@yrftalent) August 14, 2017
Sassy! Taking over the wheel, @ParineetiChopra shooting for #GolMaalAgain in Hyderabad ??#Shoot #Drive #InstaStories pic.twitter.com/6WrCIJmJ0j

— YRF Talent (@yrftalent) August 13, 2017
There is also one where she retires to bed before the last schedule of Golmaal Again begins the day after.
— Parineeti Chopra (@ParineetiChopra) August 5, 2017
Parineeti had further been quoted saying to a leading news agency recently on starring in a multi-cast movie for the first time: "Sometimes you feel less pressure as you know there are so many stars in the film." She also added on how it was a fan-girl moment for her when she first came to the set and met the Golmaal team: "It was a fan-girl moment for me when I saw this group together. When the first Golmaal came out, I wasn't even planning to be an actor, let alone thinking that one day I'll be a part of this franchise. But it soon went away as the moment I joined, they treated me like an equal co-star. I was a part of the gang. It became an equal relationship quickly."
My boysss ❤️ #GolmaalAgain @ArshadWarsi @kunalkemmu @shreyastalpade1 pic.twitter.com/e6gZboZrvA

— Parineeti Chopra (@ParineetiChopra) July 12, 2017
The gang will be back with a bang once AGAIN! #GolmaalAgain @TusshKapoor @ajaydevgn @ParineetiChopra @shreyastalpade1 #RohitShetty pic.twitter.com/ctueLz7buM

— Golmaal Again (@GolmaalMovie) August 9, 2017
Agencies further report that Golmaal Again will hit the theatres during Diwali (in November) this year.
Photo Credits: Twitter and Instagram