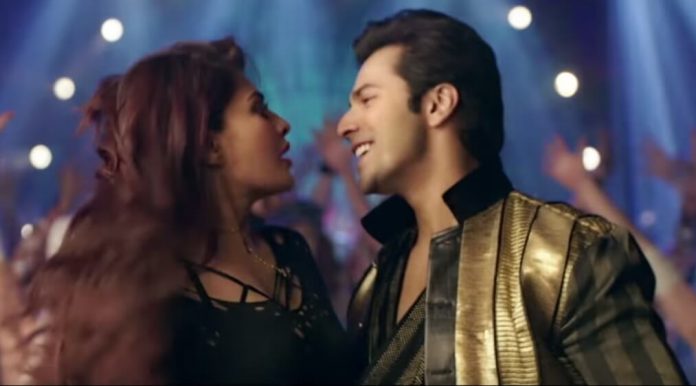 Chalti Hai Kya 9 Se 12, the cult hit song from Judwaa is back in a new avatar while Varun Dhawan makes sure to groove on popular dance steps from the song with Karisma Kapoor
This song topped the charts in the 90s with Raja (Salman Khan) and Mala (Karisma Kapoor) dancing to its tunes on stage, while Prem (Salman's double role) shaking a leg inside the jail while jailor Roopa (Rambha) accompanies him in the dance moves from right outside the prison bars. For millenials, this song where Salman befriended the bling in shimmery pants, "Tan Tana Tan…Chalti Hai Kya 9 se 12" is a trip down the memory lane into one of Salman's biggest hit movies, Judwaa. Now that Judwaa 2 is slated for release on September 29, 2017, Varun Dhawan (who is playing Salman's characters, Raja and Prem in double roles), Taapsee Pannu and Jacqueline Fernandez, Varun's love interests in the film are bringing back the iconic song in a remix version in the 1997's Judwaa remake.
A day before the song's re-release,  all the three actors made the buzz on the song's teaser release (that happened on August 24, 2017) afloat on social media with interesting captions.
Ek baar se dil nahi bharta, Le aaye hain dobara! #ChaltiHaiKya9Se12 out tom! #Judwaa2 @The_AnuMalik https://t.co/sQHHH6vCDl

— Varun PREM Dhawan (@Varun_dvn) August 24, 2017
Ek baar se dil nahi bharta, mud ke dekho humein dobara! Flying high with tan tana tan tan tan tara #Judwaa2 #ChaltiHaiKya9Se12 #SongOutTomo pic.twitter.com/e3Lj50AAdf

— taapsee pannu (@taapsee) August 24, 2017
Our tribute to the original!!? ??#ChaltiHaiKya9Se12 out tom! https://t.co/JJvYYFRMsu @Varun_dvn @taapsee #Judwaa2 pic.twitter.com/rfR7wubQZV

— Jacqueline Fernandez (@Asli_Jacqueline) August 24, 2017
After the reprised version of the song sung by Dev Negi & Neha Kakkar was released a couple of hours back, Varun followed by the leading ladies of the film have actively promoted it on Twitter:
#गणेशचतुर्थी के शुभ अवसर पर #tantanatan is back. #daviddhawan #SajidNadiadwala #ChaltiHaiKya9se12 out now https://t.co/cQFnTpJZeY

— Varun PREM Dhawan (@Varun_dvn) August 25, 2017
#ChaltiHaiKya9Se12 is here. Hope you like it.. @Varun_dvn @Asli_Jacqueline #SajidNadiadwala #DavidDhawan https://t.co/FGYYMLtnJT pic.twitter.com/o0iXpL0O6d

— taapsee pannu (@taapsee) August 25, 2017
This is my new jam!!
?? #ChaltiHaiKya9Se12 is out??@Varun_dvn @taapsee #DavidDhawan #SajidNadiadwala https://t.co/e0OnaXSeeP pic.twitter.com/KHjb3IketW

— Jacqueline Fernandez (@Asli_Jacqueline) August 25, 2017
But the craze around the song doesn't end here. Karisma aka Mala from Judwaa has joined Varun and is seen doing the Tan Tana Tan's popular step in a video shared by him on Instagram.
Karisma too took to Instagram to re-post the video, sharing the excitement of her song getting re-released after 20 years with her fans. Her Instagram post reads: "So excited one of my favourite songs is re releasing tomo after 20 yrs with my darling @varundvn ? wish him and the entire cast and crew all the very best for #judwa2 #tantanatantantantara ?❤️#outtomorrow"
What is even more interesting is that both Salman and Karisma would reportedly recreate the original magic of the song along with the star cast of Judwaa 2. A leading daily in its exclusive report, quoted a source about Salman and Karisma's much-awaited appearance in the song remix: "Salman will be part of the chartbuster song Tan Tana Tan Tan Tan Tara along with Varun Dhawan. It will be like the old Judwaa and new Judwaa together. And then Karisma will join them to shake a leg."
Further, in an interview with Mumbai Mirror, David Dhawan, the director of Judwaa and Judwaa 2 confirmed it saying, "Two decades on, Tan Tana Tan is a song that excites me. It is clearly the flavour of Judwaa and I loved having this song again in Part 2. Salman and Lolo (Karisma) have given the new version the same love it got 20 years ago."
The new version is however contemporary and will not feature the dance moves from the 90s song although the situations during the song have been kept similar to that of the original: Prem and Raja (Varun Dhawan) shake a leg with Taapsee as the chic jailor and Jacqueline sizzling on stage respectively. It is almost like the song had a rebirth to make the youth groove to the number while having the appeal of modern dance moves.