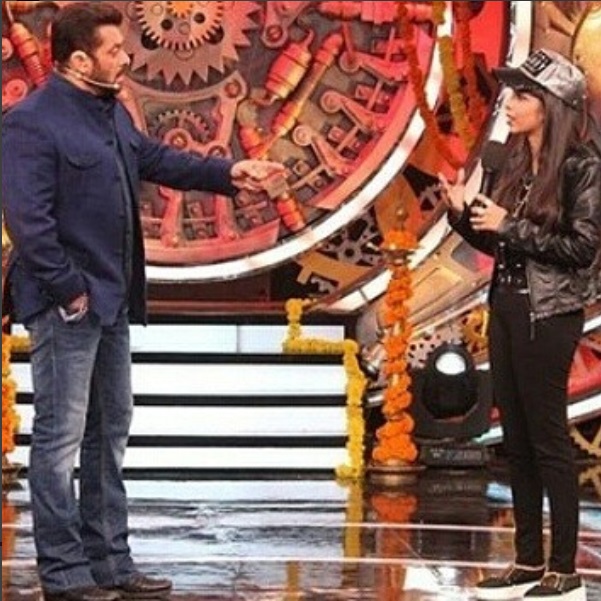 Bigg Boss 11 is certainly becoming a highly viewed and one of the most entertaining shows on the Indian television
This Weekend Ka Vaar on Bigg Boss 11 was surely not to be missed. However, if missed, here are some updates on what went in the Bigg Boss house this Diwali weekend.
Dhinchak Pooja's fans can now see more of her: in Bigg Boss house. Her audition video has already taken the internet by storm where she first introduces herself with style and asks the host of the show, Salman Khan to be "beware" as she will make the latest season the most popular one, her being a part of this one.
Dhinchak Pooja will enter the Bigg Boss house as the first wild card entry. Priyank Sharma who had been eliminated after his fight with Akash Dadlani will be welcomed as the next wild card entry. Before Dhinchak Pooja made her entry, there was much speculation regarding her being a part of this season. Salman took a few moments of silence before finally inviting her into the house. But before she entered she had to reportedly sing her viral song, Selfie Maine Le Li Aaj, the song that made her a household name and a cringe-pop sensation. Salman Khan further tries to sing with Dhinchak Pooja and takes a jibe by saying that it was his dream to have performed with her. The two sing Selfie Maine Leli Aaj while Salman expresses shock on how the song has become viral!
The reaction of the other contestants to her entry was mostly apprehensive and even bitter. They were getting ready for what the future held for them when Dhinchak Pooja's song was being played before she entered the house. Hina Khan, one of the inmates was heard saying, "Really, Big Boss? Dhinchak Pooja?!
Even others like Shilpa Shinde had made plans on subtly taking digs at Dhinchak Pooja. Meanwhile, Salman planned a surprise too for the contestants by suddenly asking Sapna Chaudhry among other five nominees to leave the house and go to the confession room. She was then asked a series of questions by the Dabangg actor on Sapna's opinions about other inmates, which the latter could hear from the living room. She was asked about if her fight with Arshi Khan in the house was a pretense and she reveals that according to her, Bandgi is using Puneesh 50 percent while at other times, Sapna said she feels Bandagi is a genuine person. While housemates agree with her, Bandagi takes offense, says Sapna is a player and does not speak to her by the end of the show.
Sapna also said during the truth task that while Vikas Gupta is playing a game each time he offers friendship, Hina Khan according to Sapna believes in his friendship.
After Sapna, it is  Benafsha Sonawalla who is called to the confession room. As she is  known to support Vikas Gupta in the house, Shilpa Shinde and Hina Khan say that they believe she supports his wrongs too. Benafsha and the other inmates, however, claim that Shilpa does not take a stand in any of the house matters and just watches the fights and arguments like an audience. Benafsha too is accused of enjoying fights in the house.
Puneesh Sharma, meanwhile disagrees with Salman and the housemates when they say that his focus is only on Bandagi Kalra, during the truth task. Salman also alleges that Puneesh's plans are never a success.
Minutes later, all the housemates celebrated Diwali with singing, dancing and pulling acts where Shilpa is the host, Hiten Tejwani and Vikas are playing the characters in a play. While Sapna and Hina hold up a powerful dance show, Akash Dadlani and Jyoti Kumari perform a rap song. Hina and Sapna won the gift hampers for Diwali but everyone got a Diwali gift as no one was evicted this weekend.
Further on, the lead actors of popular shows on Colors are invited on the show and mimic the contestants on the stage. The acts are appreciated by all especially host Salman who was seen in a Diwali spirit and was seen making sweets with the guests.
#DhinchakPooja sings #DiloKaShooter! Do you like this song? #WeekendKaVaar pic.twitter.com/mp72UQWsGo

— COLORS (@ColorsTV) October 22, 2017
As controversies increase, so does trouble for Sapna Chaudhry as Vikas, Puneesh and Bandagi are all upset with her. Meanwhile inmates also keep their distances from Dhinchak Pooja believing her to be conniving enough. But Hina Khan's unwelcoming attitude towards Dhinchak Pooja has been trolled heavilly by Twitteratis as well.
Photo Credits: Instagram