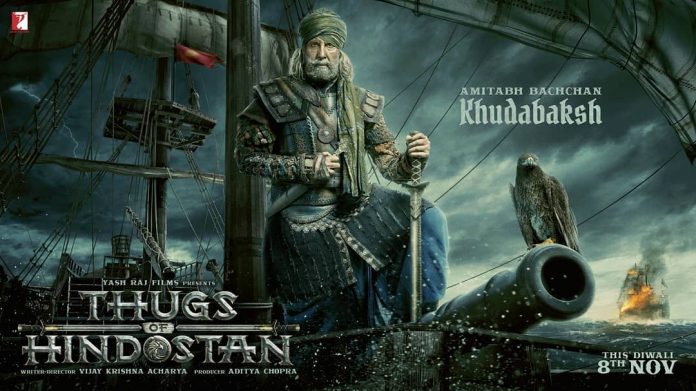 Aamir Khan and Amitabh Bachchan starrer Thugs Of Hindostan is one of the most awaited films of Bollywood. The makers recently revealed the logo of the film on the social media. And now Aamir Khan has introduced the character of Khudabaksh played by Amitabh Bachchan. The character was introduced with a motion poster and was shared by Aamir Khan on the social media.
Going by Mr. Bachchan's looks, he looked more like a pirate and was dressed in an OTT outfit with metallic shoulder pads and a sword in his hand. Khudabaksh is seen on a boat which appears to be on a turbulent sea and a burning ship at the back drop. Reports say that the film is filled with action sequences and was the reason why Mr. Amitabh had suffered from severe shoulder and back pain earlier this year.
Aamir Khan had also talked about Mr. Bachchan's condition in earlier interviews. The cast and crew was shooting in Jodhpur when doctors were flown from Mumbai to have a check on him. Thugs of Hindostan is directed by Vijay Krishna Acharya and produced by Aditya Chopra. After an exciting motion poster featuring Amitabh Bachchan, the audience cannot wait for more such motion posters featuring other actors Katrina Kaif, Aamir Khan and Fatima Sana Sheikh.
Watch the motion poster here:
Photo Credits: Instagram