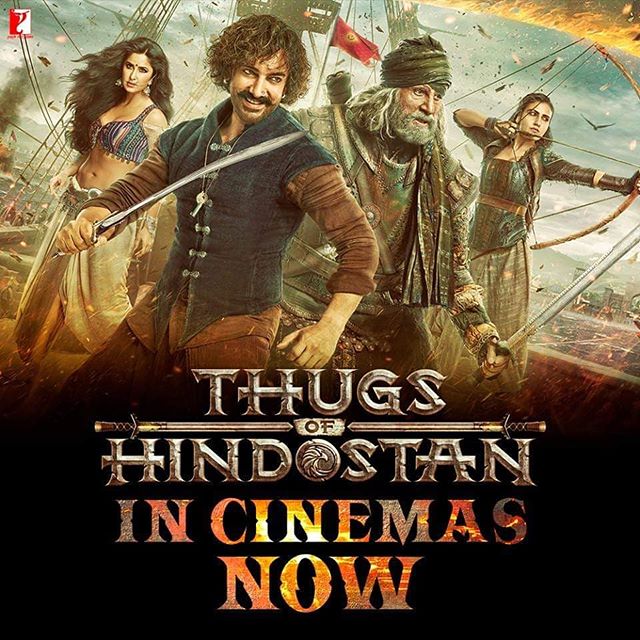 Movie Name: Thugs of Hindostan
Cast: Amitabh Bachchan, Aamir Khan, Fatima Sana Sheikh and Katrina Kaif
Director: Vijay Krishna Acharya
Genre: Action adventure
Running Time: 164 minutes
Bollywood Garam Rating: 2/5 stars
Thugs of Hindostan was one of the most awaited films of 2018 and there were huge expectations with the huge star cast in the film. A with the presence of the actors like Amitabh Bachchan, Aamir Khan, Katrina Kaif and Fatima Sana Sheikh, the audience had huge expectations from the film as it was also made with a huge budget. The trailer of the film looked promising yet the period drama plot felt feeble.
The story begins when British Company's officer Clive takes over the kingdom of Mirza, played by Ronit Roy. Princess Zafira played by Fatima Sana Sheikh and Khudabaksh played by Amitabh Bachchan join together to defeat the British officer and win their freedom back. This is when the East India Company seeks help from Firangi Mallah, played by Aamir Khan.
The makers of the film had the aspirations to be a big budget entertainer as it has the look and feel of a top grade adventure film but the drawbacks in the script have dampened the entire experience. In terms of the physical comedy and banter Aamir Khan scores well while Mr. Bachchan has done well with the heroics and the intense dialogues. The rest of the cast of the flick have failed to live up to their respective characters. Katrina Kaif does not have much presence except for two songs and a couple of dialogues. Fatima Sana Khan, is indeed promising but her badly choreographed action sequences have made her look dull.
There are a few funny moments and some good visuals but are not enough to pull off a film with such a scale. Even the running time of two hours and 45 minutes seem to be too stretched and blame can be put on poor editing. Overall, Thugs of Hindostan has failed to live up to the expectations of the audience and a poor climax can leave your disappointed.
Photo Credits: Instagram