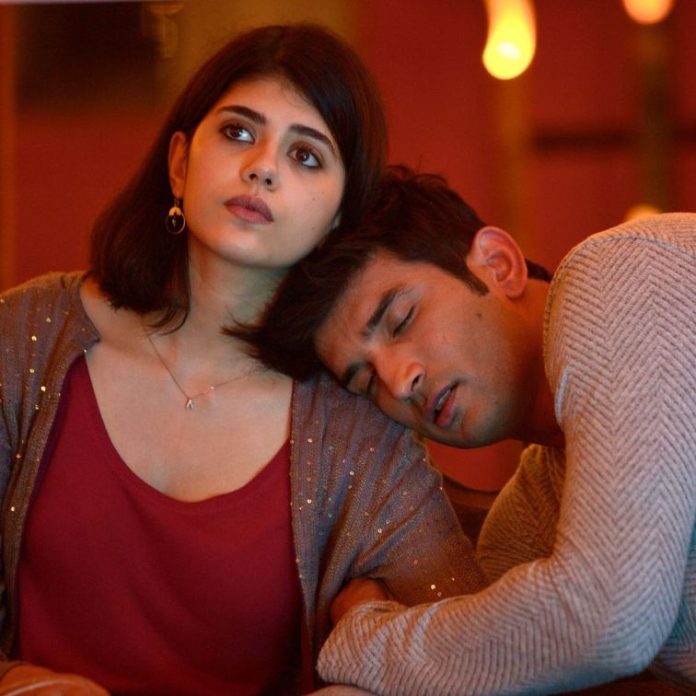 Movie name: Dil Bechara
Cast: Sushant Singh Rajput and Sanjana Sanghi
Director: Mukesh Chhabra
Genre: Romantic drama
Running Time: 101 minutes
Bollywood Garam Rating: 4/5 stars
Dil Bechara could now be called as an emotional journey for the fans of the late actor Sushant Singh Rajput and realize what the industry has actually lost. The romantic drama begins with Kizie Basu, played by Sanjana Sanghi attending a funeral and later the audience realizes that she has this habit of attending unknown people's funeral as it gave her the opportunity to share their sorrow.
The story is about Kizie Basu and Immanuel Rajkumar Junior, also known as Manny. Kizie suffers from Thyroid cancer and has to carry an oxygen cylinder, wherever she goes and has named it Pushpinder. Manny too has previously suffered from osteosarcoma. The two fall in love but soon Kizie falls sick and this is when Manny wants to fulfill her one wish to go to Paris. But soon their life takes a different turn and things start rolling the other way.
Sushant Singh Rajput is surely the showstopper and has given his best shot. Sanjana plays a timid girl but has done justice to her character. Kizie's mother Swastika Mukherjee and father Saswata Chatterjee have also well-played their roles as Bengali parents. Dil Bechara is an emotional journey, which has an underlying message to live life to the fullest and Manny's character has preached it all. The songs in the film have been composed by A R Rahman and are catchy and pleasant. The title track Dil Bechara has been performed well by Sushant and is a one-shot song that was well appreciated by choreographer Farah Khan.
Sanjana has made a debut in the lead role and looks confident. It is refreshing to watch Sushant and Sanjana romance each other. The film might not be enjoyed by people who are not used to a slow pace, but will be loved by people who love to watch romance on screen.
Photo Credits: Sanjana Sanghi official Instagram account