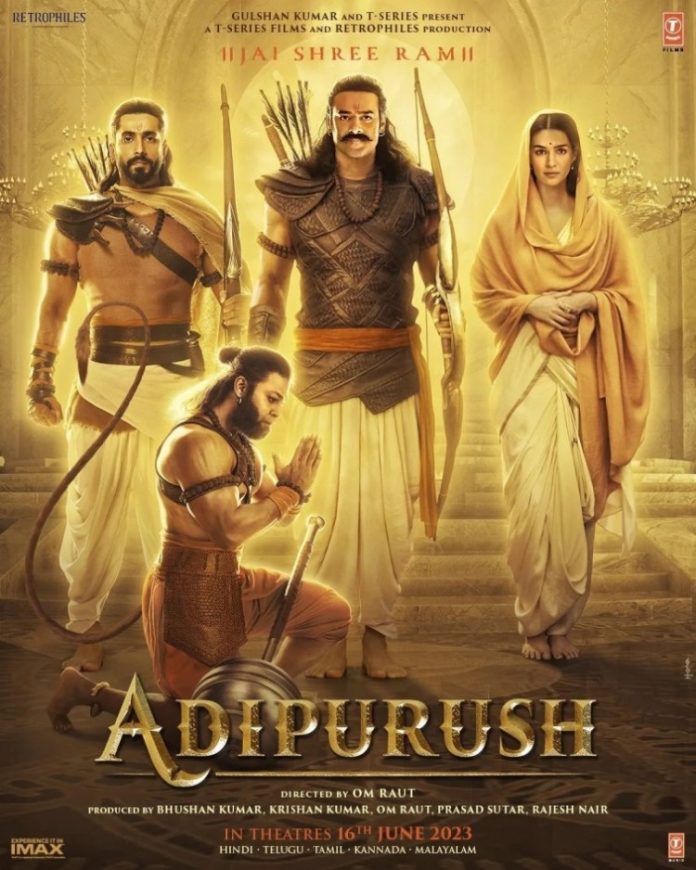 Movie Name : Adipurush
Cast: Prabhas, Kriti Sanon, Saif Ali Khan and Sunny Singh
Director: Om Raut
Genre: Mythological action
Running Time: 179 minutes
Bollywood Garam Rating: 5/5 Stars
Director Om Raut, who has earlier showed off his phenomenal work in Tanhaji, has this time successfully executed a remarkable film with Adipurush. Based on the Hindu epic Ramayana, the director has put forth the best of what could be understood of the story.
The story begins with Raghava leaving for his 14 year exile in the woods on the request of his step mother Kaikeyi along with his wife Janaki and brother Sesh. The entire screenplay is based on the story that happened in the forest and Raghava's quest to rescue Janaki from Lankesh – the King of Lanka. The war between Raghava and Lankesh leads to the death of the later. This is the story that is known by everyone but director Om Raut has done his best in execution of the story.
The makers have carefully picked actors for the characters with Prabhas as Raghava, Kriti Sanon as Janaki, Sunny Singh as Sesh and Saif Ali Khan as Lankesh. Despite playing a negative role the star of the movie remains Saif with his phenomenal performance as Lankesh. Prabhas and Kriti put up a respectful image of Lord Ram and Sita and performed exceptionally well. Sunny Singh too stood out as Sesh while the other characters in the film including Devdatta, who played Bajrang deserve an applause.
The makers did a great job with the VFX and the 3D effect was well executed. The only drawback in the film could be the fact that Ramayana has a number of factors in it and a few were missing. However, summing up the epic story of Ramayana in to a three hour film was exceptional and noteworthy on the parts of the makers. There is not a single dull moment in the film and manages to keep the audience glued to their seats. A great entertainer and can be watched with the entire family. Bollywood Garam rates Adipurush a perfect 5 star for the amazing VFX and phenomenal cinematography.
Photo Credits: Adipurush Official Instagram Account