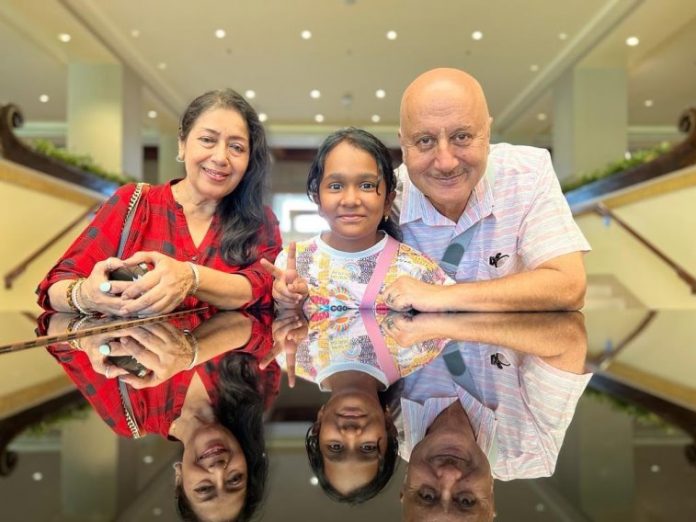 Ever since the untimely death of the actor/ director Satish Kaushik, close friend Anupam Kher, has been spending quality time with Kaushik's 11 year old daughter Vanshika. Anupam is known for remaining active in social media and shared a video on June 20, 2023 that featured Vanshika. Satish's daughter had appeared at Kher's office to meet him and Anupam was seen sharing a video of his conversation.
Anupam in the video can be seen asking Vanshika about her everyday life, her favourite songs, her hobbies, what she wants to become when she grows up and what she misses about her father. Vanshika also talked about how she spends her time with her mother at home and shared that she loves Taylor Swift's songs. The 11 year old also crooned one of Swift's songs in the video. Anupam also asked her if she wants to become an actor when she grows up to which she said that she does not know about it.
On this Anupam, assured Vanshika if she would be interested in acting in the future then he would personally train her to be an actor and will also launch her in a film. Vanshika giggled to Kher's answer to which he said that he was serious while adding that right now she needs to be focusing on her studies. While talking about her father, the 11 year old got a little teary-eyed, but managed to hide her emotions. She shared that her father used to tell her bed-time stories. Vanshika also shared that she will turn 11 years old on July 15, 2023.
Kher asked what gift she wanted for her birthday, to which she said that she only wants him to come to her birthday party. Anupam said that he will be hosting a party for her. As soon as the video was posted, netizens were all praises for Anupam and called him a great friend to Kaushik.
Photo Credits: Anupam Kher official Instagram Account