Bollywood Garam: Indian actress Mallika Sherawat dazzled on the red carpet of the 64th Cannes Film Festival with a shocking gown. The actress appeared in a black gown designed by Eric Tibusch, which showed of her panties, as the gown had a see through back which revealed a lot more than intended.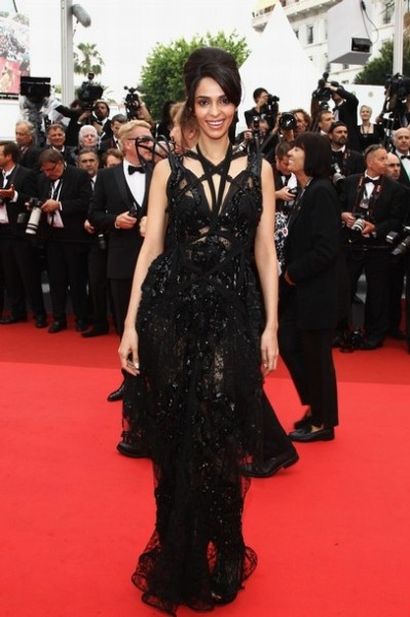 The 'Khwahish' actress flaunted her underpants through her black lacy dress and had even enjoyed posing for the shutterbugs on the red carpet. Mallika dared to wear the bizarre dress at the premier of the Pirates of the Caribbean: On Stranger Tides, where other celebrities were dressed up a lot more stylishly compared to the Indian star.
This wasn't the first time the actress dared to be unique. Last year, the actress wore a python on her neck. Apart from Sherawat, actress Candice Boucher also appeared in a see through dress, which was surprisingly revealing and extremely provocative.
Boucher's dress had showed off her body and had tactfully covered her assets. Mallika's dress wasn't as glamorous as Candice's attire, but still caught enough attention of the paparazzi.
Bollywood actress Sonam Kapoor too walked down the red carpet at Cannes and had made her own mark by looking elegant and beautiful. While Sonam made her presence felt, Mallika made sure to grab the limelight with her bizarre outfit. Celebrities like Aishwarya Rai Bachchan too had appeared at the red carpet of Cannes, and made her presence felt in the global movie industry.