Bollywood Garam: While Bollywood actress Mallika Sherawat made many heads turn at the red carpet of the 64th Annual Cannes Film Festival, upcoming actress Candice Boucher too made her presence felt. The South African model dared to wear a transparent black gown with just enough design covering her assets.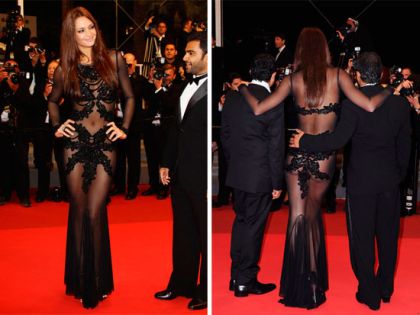 Boucher's outfit was a lot more bizarre than Mallika's outfit – which had revealed her panties from the transparent gown. Candice will soon be making her debut in a Bollywood movie called 'Azaan'.
In her black gown, Candice looked like she was almost naked, since just a few sequences were all that covered her revealing assets. On the other hand, Mallika tried hard to look glamorous for the occasion by wearing a see through gown, designed by Eric Tibusch. But unfortunately, the bold actress failed and lost marks in terms of glamour as the clear winner for the evening was the tall model Candice, who made her presence felt with the help of her transparent gown.
Mallika has always begged to be different on such occasions. Last year, the actress had dared to wear a snake around her neck to promote her movie 'Hisss'. The 'Khwahish' actress had made her first appearance at Cannes with the legendary Hong Kong actor Jackie Chan for The Myth. Wonder what would be Mallika's has in mind for her next appearance at Cannes.