Bollywood Garam: For all those who think that only sexy females of the industry are eligible for an item, here is their answer courtesy Aamir Khan. The actor turned producer has proved that men too are capable of being an item boy with his latest song 'I Hate You I Love You' of 'Delhi Belly'.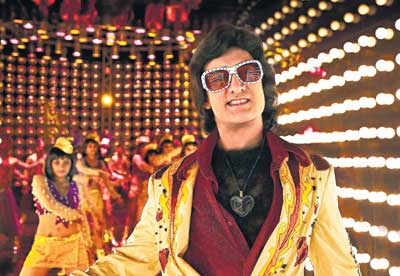 Aamir in the item song can be seen like a disco king dressed in a white outfit with an 'Elvis Presley' wig doing those pelvic moves. The 'Taare Zameen Par' actor said that as far as his item song is concerned, he conveyed to Katrina Kaif and Deepika Padukone that the era of girls ruling in the item songs is over.
Aamir's item song is truly a delight to watch, especially for all the Aamir fans, who are more than delighted to see him in the retro look. The actor while talking about the item song had said that he has copied many styles of the veteran actors.
For instance, Aamir copied Amitabh Bachchan's hair style, Mithun Chakraborthy and Govinda's dancing style and even Anila Kapoor's chest hair. The song has been written by Akshat and has been composed by Ram Sampat, while Bosco has choreographed the item song.