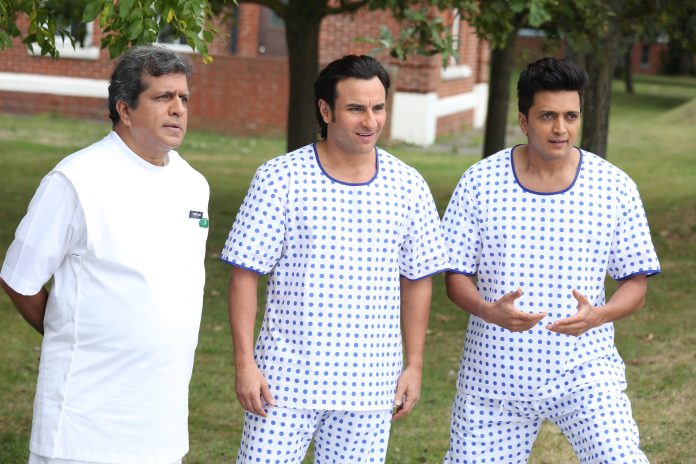 Movie Name: Humshakals
Cast: Saif Ali Khan, Ram Kapoor, Reteish Deshmukh, Esha Gupta, Bipasha Basu and Tamannaah Bhatia
Director: Sajid Khan
Release Date: June 20, 2014
Run Time: 2 Hrs 39 Mins
Bollywood Garam Rating: 2/5 stars
When the aam janta leaves their home to go watch a quintessential Bollywood comedy/masala flick, they know that carrying common sense and logic along is just futile. Humshakals was promoted as a typical Sajid Khan laugh riot with comedy and Bollywood masala as the its main ingredients.
However, this time, the aam janta might have been a little disappointed with Humshakals' "triple" comedy. A convoluted plot combined with executional flaws make the film seemed stretched after the first 50 minutes.
To reiterate the story of the film, Ashok Singhania (Saif Ali Khan) is a huge business tycoon and during the day he manages his "business umpire", his best buddy is Kumar (Reteish Deshmukh). This duo is declared "mental" by their evil Kans mama (Ram Kapoor). That's pretty much the plot of the film, just multiply each character by three!!
Ludicrous things like 'mind altering drugs' – which evil mama Kans (Ram Kapoor) gives Ashok (Saif Ali Khan) – inducing canine like tendencies into Askok don't go down too well with audiences looking for sensible humor.
Satish Shah, the only true comedian in the film doesn't get his due, thanks to his deranged – supposed to be funny – character who thinks that he is Hitler and Idi Amin at the same time.
The leading ladies Tamannaah Bhatia, Esha Gupta and Bipasha Basu are just there to do what most pretty looking women do in films like Humshakals – be the eye candy.
Saif, Ram and Reteish looked like they tried really hard to salvage the 'comedy' in the film in face of eminent tragedy!
All in all, Humshakals is funny in brief bits and pieces, but fails to make for a complete entertainer.
However, the filmmakers have no reason to sulk, because audiences have decided to cast a silver-lining in terms of box-office collections. In just three days of Humshakals' release at the theaters, it has collected an unbelievable Rs.40 crore. The film has also reportedly sold its satellite and music rights for a whopping Rs.45 crore.
Bollywood Garam warms up a little to Humshakals and gives it two and half stars.