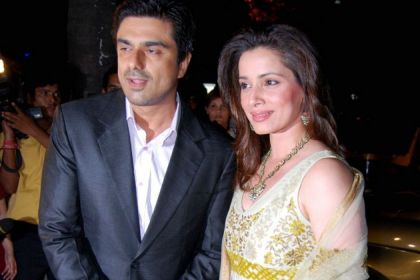 Bollywood Garam: Bollywood actor and ex-Bigg Boss 4 contestant Samir Soni got married to his long time girlfriend Neelam Kothari. The couple had a simple wedding ceremony with close friends and family in Mumbai on Sunday.
Salman Khan, who wanted to be a part of the ceremony, could not make it but brothers Arbaaz and Sohail, along with her families as well as sister Alvira came to greet the couple. The other guests who came to be a part of the ceremony were Raveena Tandon, Karishma Kapoor, Mandira Bedi, Farah Khan and Ekta Kapoor along with parents Jeetendra and Shobha.
Hrithik Roshan and Karan Johar also could not attend the ceremony as they had already committed to attend a fashion show for a project of Shabana Azmi. When Samir was asked about their honeymoon plans, he said, "I've stayed away from Mumbai long enough because of 'Bigg Boss'. So, no honeymoon for now."
The couple also added that they will be immediately planning for kids.
Samir Soni and Neelam Konthar's wedding picture: