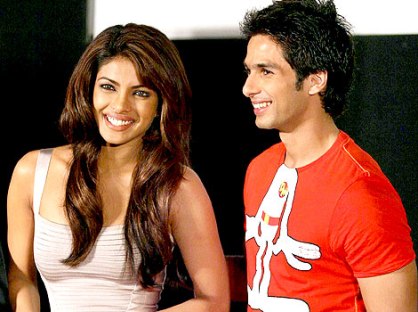 Despite the on and off relationship status of the Bollywood stars Shahid Kapoor and Priyanka Chopra, the two prefer to maintain a professional relationship. Shahid on 16th November was seen shooting for an ad with Priyanka in Mumbai, India.
The 'Jab We Met' actor actually shot for two ads at the same time at the same location at Madh Island. One of the ads was for a coffee brand that was shot with Chopra and the other was for a paint brand.
Shahid after returning from a Spanish vacation is now busy completing all the pending work before he takes up new projects. The two while shooting for the ad were trying to be as cordial as possible to each other.
Shahid and Priyanka at the location of the shoot refused to give joint bytes to the media, despite the fact that the media was invited to cover the shoot as a Shahid and Priyanka event. When asked Shahid, he said that it was a regular working day and that there wasn't anything to talk about. At present Shahid and Priyanka are working together for a film by Kunal Kohli, which is yet to be titled. There are chances that their professional relationships might help them to improve their personal relationships too.