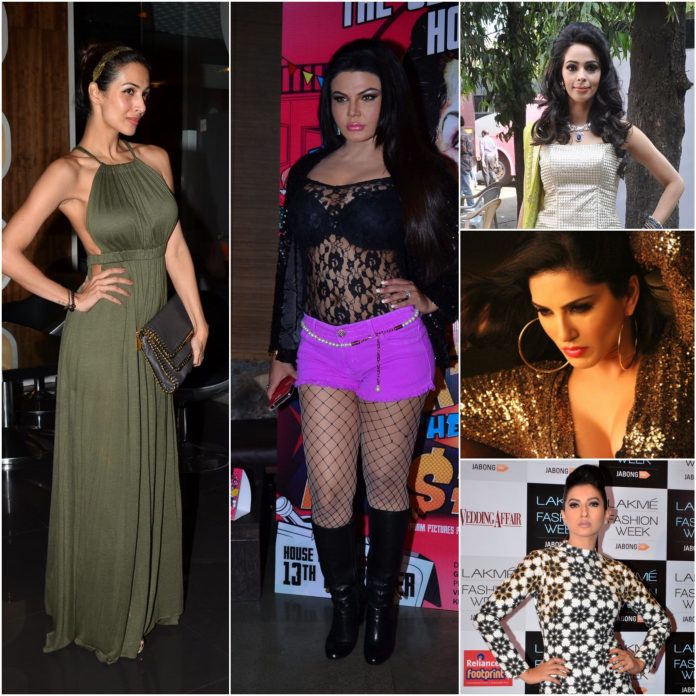 They might not blow your mind with their acting skills, but dance, YES! Bollywood's top 5 hottest item girls.
The world of Bollywood has always had its crop of  actresses who didn't make it to the top of the movie business, but left a greater mark with their sizzling "item songs". The olden days had the ravishing Helen who still manages to send fans into a tizzy with her seductive dance moves, but tinsel town today, has an ever growing flock of young starlets who have officiated their "item girl" status.
Here are the top 5 Bollywood actresses who are better know as "item girls".
1. Malaika Arora Khan – Who can forget the scintillating 'Chaiyya Chaiyya' girl, not only was the song a hit of the decade, but it definitely made the men folk lust for this curvy beauty on-screen.
Her envious figure at 40 something combined with her killer dance moves, make Malaika Arora Khan Bollywood's eternal item girl. She did try her hand at acting with small roles in Houseful (2010) and Kaante (200), but she can never shrug off her talent to titillate the masses!
2. Rakhi Sawant – Love her, hate her, but you cannot ignore her! Rakhi Sawant shall always remain the eternal and original "item girl" of Bollywood. She is not only unabashedly bold about her "item girl" status, but also has no qualms in flaunting her "god given" assets. This 'Pardesia' hitmaker shall forever remain etched out in the memory of the masses.
3. Sunny Leone – She has shifted base from the "adult world" of Beverly hills to Mumbai's film city and even though she is still finding her feet in Bollywood with films like 'Ragini MMS 2', you can't deny the fact that her 'Pink Lips' and 'Baby Doll' are the first things that come to the mind! She may want to be a Bollywood actress, but brushing off that "item girl" tag is going to be tough for this sultry starlet!
4. Gauhar Khan – This ramp scorcher has definitely amped up her presence in tinsel town, be it Big Boss or India' Raw Star, she is suddenly the new face on TV. But let's face it, do we remember her as the aspirational marketing employee in 'Rocket Singh' or as the sizzling dancer in Ishaqzaade's 'Jhallah Wallah'? We know the answer now, don't we!
5. Mallika Sherawat – Yes, she shall always be remembered as Emraan Hashmi's  female counterpart when it came to breaking the kissing taboo on- screen in Bollywood. But let us be honest now, does Mallika's supreme acting ability make us swoon or her groovy 'Jalebi Bai'?!