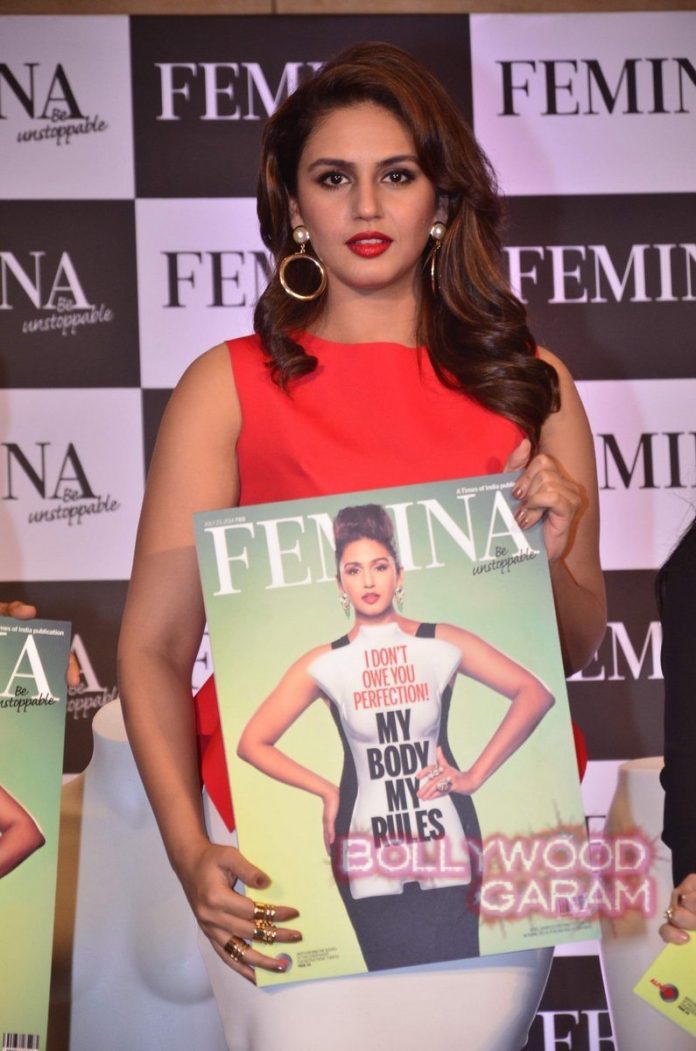 "My Body My Rules" – Huma Qureshi and her bold Bollywood journey.
This was the line printed on the cover of Femina's July 2014 issue – the same cover on which Bollywood actress Huma Qureshi strikes a bold pose with a skinny mannequin. After having made her debut in the big bad world of Bollywood with Anurag Kashyap's 'Gangs of Wasseypur' (2012), Huma has had a rocky, but noteworthy journey in Bollywood. 
Qureshi traversed the movie business like any other heroine, she appeared in films like 'Ek Thi Dayan', 'Dedh Ishqiya', 'D-DAY' and RAW, a few hits and a few misses.
However, what has made Huma's career path different from many other typical tinsel town stars is her bold and outspoken retaliation to all the "weight critics" who are generously planted in the showbiz industry!
The 28-year-old 'Gangs of Wasseypur' actress faced an irksome barrage of weight-related comments upon her entry into Bollywood. Acting skills are always secondary to looks in the glamour business…unfortunate, but true! 
Actors come equipped with their own armor to deal with such issues, most succumb to the pressure and go down the skinny route, however, Huma decided to take the road lesser travelled upon. 
Not only did she appear on the Femina cover (July Issue) which silenced one and all – I DON'T OWE YOU PERFECTION, MY BODY MY RULES – but she has made sure to follow up on her promise made.
At every event, the bold lass flaunts her curves without any qualms, her fashion choices are not dictated by the size zero fad, but her own style and comfort.
In an opinion column that was published in The Indian Express, Huma traced her journey as an actress in Bollywood and her right to not be constantly scrutinized by the public and media gaze.
It takes courage to outcast yourself from the typical "Bollywood heroine" mould. Way to go girl!