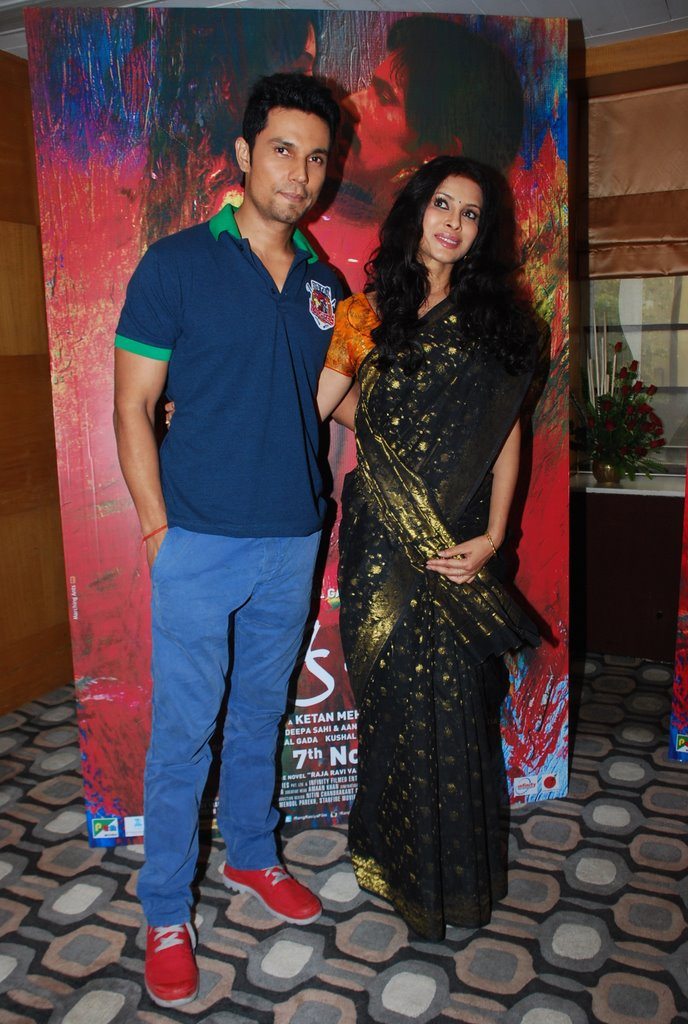 Actors Nandana Sen and Randeep Hooda attend 'Rangrasiya' promotion.
Bollywood actress Nandana Sen and Randeep Hooda promoted their upcoming movie 'Rangrasiya' at an event in Mumbai on October 28, 2014. Speaking about the movie, Nandana said, "It feels just like Diwali should – a new and auspicious beginning for our film, a burst of music, a celebration of lights, color and love."
She added that the movie focuses on art and freedom, and not sex and nudity. Nandana will be seen on the big screens after a long gap of six years. The movie is directed by Ketan Mehta and is produced by Deepa Sahi and Aanand Mahendroo. It will be released in theatres on November 7, 2014.
Nandana debut in Bollywood with the Rani Mukherjee and Amitabh Bachchan starrer 'Black', directed by Sanjay Leela Bhansali, in which she played the role of Rani's 17-year-old younger sister. Following this, she took on projects with many Indian directors, including Ram Gopal Varma and Ketan Mehta.
She played the female lead role in 'Tango Charlie' opposite Ajay Devgan, which also featured Sanjay Dutt and Bobby Deol. She was also seen with Anil Kapoor in 'My Wife's Murder'. Nandana went on to sign for a lead roles opposite Salman Khan in the bilingual Hollywood-Bollywood film 'Marigold', as well as with Vivek Oberoi in 'Prince'.