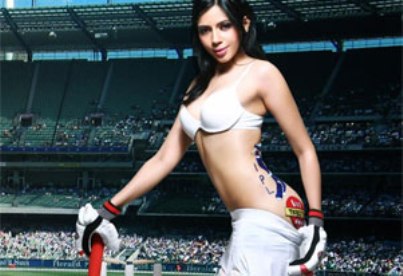 After Poonam Pandey and Veena Malik, seems like more actresses are coming up and getting inspired to show off skin. Poonam and Veena have now got a contender in Rozlyn Khan, who has bared her tattooed derriere so as to promote the ongoing season of the Indian Premiere League (IPL).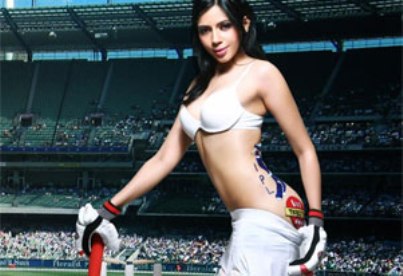 The model has done a sizzling derriere revealing photoshoot, the pictures of which are circulating on the Internet. Khan in the pictures is seen in a white brassiere, a micro mini skirt and completely padded up in cricket accessories.
The IPL has already been surrounded with plenty of controversies and this one is an added factor to the ongoing season. The model is seen sliding down her skirt and revealing her bare derriere with just a tattoo which has the IPL logo and another sticker which reads 'Buy Ticket Now'.
While talking about the photoshoot, the model said, "What's hot needs to be served hot. What would people do looking at the derriere show by John Abraham and Tusshar Kapoor ? Had I been given an opportunity to show my derriere, it would definitely have been better than John's or Tusshar's."
Rozlyn, in the picture is seen on a cricket pitch while holding a bat.