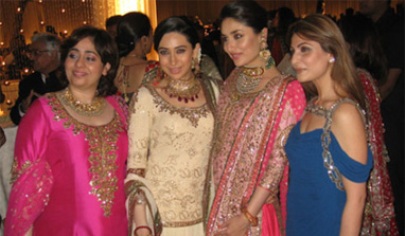 Bollywood couple Saif Ali Khan and Kareen Kapoor have finally would up their wedding celebrations which had started on October 14, 2012. After all the tiring celebrations Kareena Kapoor Khan has finally reached Saif's ancestral home known as 'Ibrahim Palace', which is 26 kms from Gurgaon.
On October 16, 2012 the formalities for the registered marriage were completed and the ceremony was attended by family and friends of the couple. Saif's mother Sharmila Tagore reached the palace in the morning along with actor's daughter Sarah and sister Soha.
Pataudi Palace, which is run by  Neemrana Hotels was booked from October 1, 2012, as Sharmila was visiting the mansion regularly. On October 18, 2012 the families relatives from Pakistan arrived at Pataudi Palace, where they stayed till Saturday.
After the death of Saif's father Nawab Mansoor Ali Khan Pataudi, the actor was made the tenth Nawab of Pataudi by the heads and prominent figures of about 52 villages of the area. The locals of the area were seen standing near the gate since morning to catch a glimpse of the actors, however security at the area was beefed up. Sharmila Tagore had hosted a grand reception in New Delhi, which was attended by politicians and celebrities in the city.