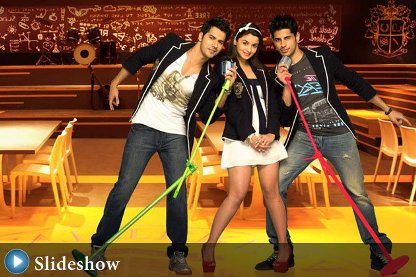 Film maker Karan Johar is back to film-making with Bollywood flick 'Student Of The Year' (SOTY). After 'Kuch Kuch Hota Hai' Johar has once again made a film about campus romance, a subject which has always hit the right chord with the audience.
The movie has introduced Alia Bhatt, Varun Dhawan and Siddharth Malhotra who are all well known in the Indian Film Industry because of their famous parents. The story is a narration of St. Teressa School, where students have their eyes on the 'Student Of The Year' trophy.
Rohan Nanda, played by Varun is rich, and the most popular boy in school. Alia Bhatt plays the role of Shanaya, who is always conscious of what she is wearing or what she would like to wear, whereas Siddharth Malhotra is mainly in the movie as eye candy. SOTY is an entertaining love triangle story which has some interesting characters , with Rishi Kapoor playing the Principal, as well as Ram Kapoor of 'Bade Ache…' fame, TV actor Ronit Roy, Farida Jalal and Boman Irani.
Although the story line and direction of the movie are predictable and may even seem uninspiring at times, people will watch the movie mostly for the role of the younger actors who are making their first big screen appearance.