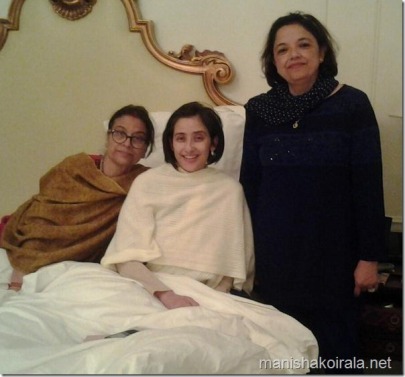 Bollywood actress Manisha Koirala has been brave in terms of facing the most difficult facts of life. The 'Dil Se' actress made a successful return to tinsel-town with the movie 'Bhoot Returns', but was later diagnosed with ovarian cancer.
Photo Credit: Twitter
Manisha was admitted to Jaslok hospital in Mumbai on November 28, 2012, after she fell unconscious. The 'Ek Chotisi Love Story' actress was then sent to the US for further cancer treatment and underwent a successful surgery on December 10, 2012, which was conducted after several tests were performed by the doctors.
Manisha also tweeted a picture of herself just before the surgery, in which he was seen happy and confident. Before the surgery, the '1942 A Love Story' actress also posted a quote by Rabindranath Tagore which said, "Let me not pray to be sheltered from dangers, but to be fearless in facing them. Let me not beg for the stilling of my pain, but for the heart to conquer it."
The actress' manager also confirmed that she underwent a successful surgery and thanked her fans and friends for their prayers and wishes. Manisha was accompanied by her mother, father and brother on the day. The actress was also accompanied by one of her close friends.