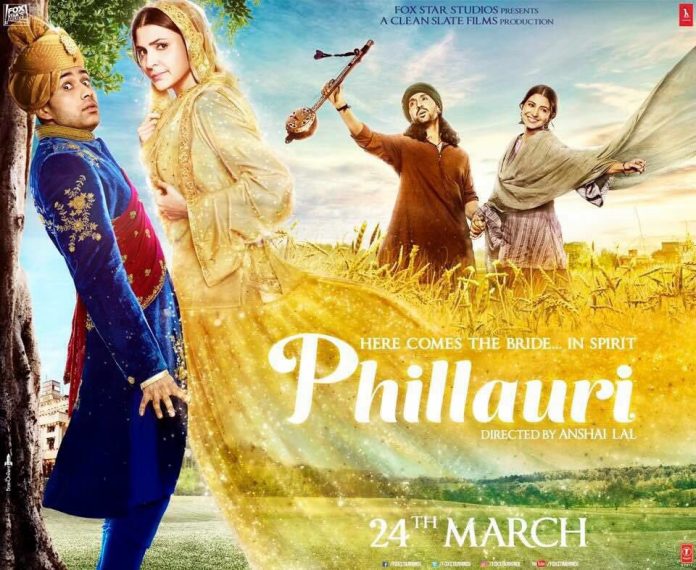 Phillauri is a humorous, heartwarming story
Movie name – Phillauri
Cast – Anushka Sharma, Diljit Dosanjh, Mehreen Kaur Pirzada, Suraj Sharma
Director – Anshai Lal
Genre – Romantic Comedy
Running Time – 2 hours 20 mins
Bollywood Garam Rating – 3/5
Phillauri is Anushka Sharma's second production after her hard-hitting movie, NH10 (2015). With a friendly ghost and hilarious Punjabi antics the film is an entertaining laughter riot with sombre moments in-between.
Broadly, the movie has a dual story line, One which revolves around the marriage of Kanan (Suraj Sharma) and Anu (Mehreen Pirzada). And another story which goes on in flashbacks, revolving around the story of Shashi aka Phillauri (Anushka Sharma) and her lover Diljit Dosanjh. The gist of the movie is that Kanan must marry a tree because he is a "manglik". Shashi, being the ghost on the tree gets bound to him with wedding vows.
When watching the movie, one can't stop wondering which of the two relationships will prevail.
The film starts with debutants Kanan (Suraj) and his childhood friend Anu (Mehreen). They are both attractive and have been friends for years. More to that, Anu likes Kanan and has been dreaming of their marriage. The film focuses on Kanan, a young man who has just returned to Punjab from Canada. He seems rather disturbed by the thought of marrying Anu. Not that there is no chemistry between them, but he fears marriage. He feels he isn't ready to take on the emotional responsibility associated with marriage. Or he perhaps fears losing his freedom or isn't sure whether marrying his childhood friend is a good decision. Before Kanan figures out the way forward, he's forced to marry a tree.
The first half of the movie also stages life in Phillaur. Director Anshai Lal captures the essence of Punjabi families and their ways in all humorous ways possible, providing light moments for the audience.
Soon after, the focus shifts to the of friendly ghost Shashi from 98 years ago! Shashi is the humble, obedient sister of a well-respected man – who is the only doctor in the area. The brother chokes her freedom due to his strict disciplinarian nature. Anushka loves poetry, but the brother doesn't regard things such as dancing, singing, and poetry as activities for "respected people". But Anushka publishes her poetry with a pen name thus, winning her freedom. She sneaks to a musical event and meets Diljit Dosanjh, a local singer.
Apparently, the singer is somehow ill-mannered but Anushka won't tolerate him. At one instance, she is seen slapping him. Ultimately, Diljit changes his loutish ways to win her love. Eventually, Diljit and Anushka fall in love and their love story is faced by unfortunate events.
However, Anushka still haunts Kanan in her hidden identity – the twist of the narrative.
Phillauri, is a love story that will make someone love even under difficult circumstances. Though there is nothing exceptional about the movie, it has a few impressive moments. The love story of Anushka and Diljit is intriguing and their effortless chemistry has  audiences craving to see more of the on-screen couple.
One of the short sides of the film is that the two love stories don't perfectly merge. Also, the storyline is a little slow, which may not go down well with audiences use to fast paced films. Phillauri entertains in bits, only when Anushka lightens up the screen or when Diljit and Shashi's love enthrall the audience.
We recommend that you go to watch the movie with an open mind and forgiving heart. Watch it, if you must for Anushka Sharma and Diljit Dosanjh's chemistry.
See entire gallery from Phillauri's special movie screening before release 
Anushka Sharma's Phillauri escapes legal trouble a day before release