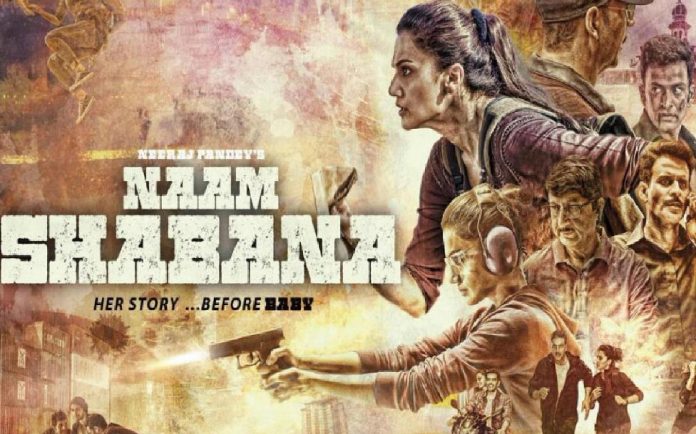 Naam Shabana is a Taapsee Pannu all the way, she holds it all together
Movie Name – Naam Shabana
Cast – Taapsee Pannu, Prithviraj Sukumaran, Manoj Bajpayee, Anupam Kher, Danny Denzongpa and Akshay Kumar (special appearance)
Director – Shivam Nair
Genre – Spy-thriller
Running Time – 2 hours 28 minutes
Bollywood Garam Rating – 4/5 Stars
Naam Shabana is the prequel to the action movie Baby (2015) that saw the title character, Shabana in an action-packed character. Taapsee plays the lead character, while Akshay Kumar will be seen in just an extended cameo. The trailer is indeed impressive, but technically has the entire movie in it. The first part might seem a bit too long and dragging.
The story is about Shabana played by Taapsee, who is reserved and is a second year B.Com student. Shabana spends most of her time training in Judo and taking care of her widowed mother. Jai, played by Taher Mithaiwala, is in love with Shabana but she has never entertained his love confessions. However, one day they go on a date and this is when she talks about her past. While they return, they encounter a few eve-teasers after which things turn ugly. This is when the actual movie starts and gives away the message that even women can be brave and have the ability to protect themselves.
There are a few laughs and a few moments might even remind the audience of Baby. Handsome man, Prithviraj Sukuraman is complete eye candy for the women in the audience. There are a few drawbacks, but Naam Shabana has many enjoyable moments as well. The true hero of the film is indeed Taapsee, but when Akshay Kumar enters the film, the entire focus shifts on him. The club songs seem like being stuffed and could have been avoided. Baby had the audience on edge, but this does not happen with Naam Shabana as the bad man is easily shown his way out. People who are expecting some good entertainment like Baby, might be disappointed with its prequel, Naam Shabana.
Photo Credits: bizasialivecom