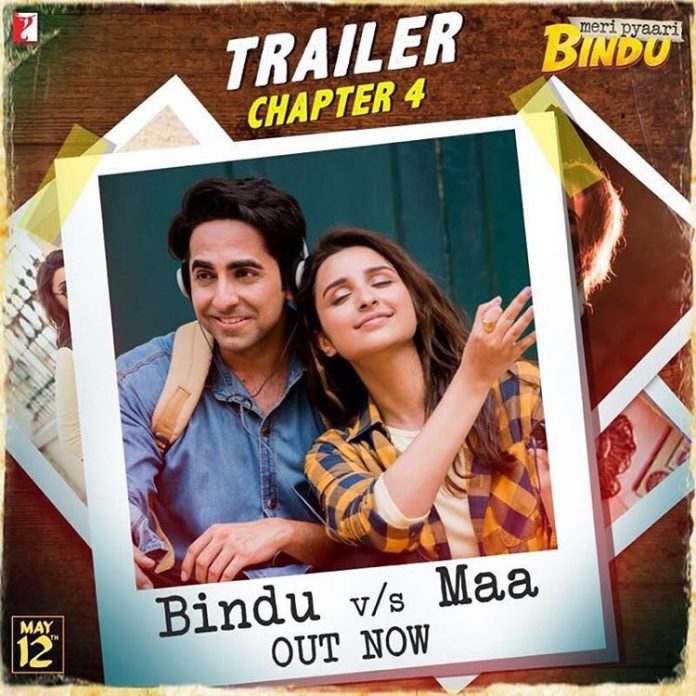 Chapter 4 of Meri Pyaari Bindu Trailer shows us how Bindu makes it difficult for Abhimanyu to get his mother to like her
If you liked the first three trailers of the movie, you are sure to fall in love with Bindu and Abhimanyu in this one.
Meri Pyaari Bindu Trailer Chapter 4 introduces Abhimanyu Bubla Roy's oh-so-Bengali mother who simply hates Bindu Shankar Narayan from the core of her heart. The reason? She's a free-spirited, Royal Enfield riding girl who is hell bent on scandalizing her!
Remember how the previous trailers established Abhimanyu to be a studious, sweet innocent person, spoilt by Bindu? In this trailer, Ayushmann Khurrana narrates how much his mother wants him to stay away from his 'do ring wali' neighbour, Bindu. That's how Abhi's mother refers to her, owning to Bindu's code of communicating with her son by making two rings on their landline.
When Abhi's mother asks Bindu how the two met, she says that they met at a dance bar and that everyone loved Abhi there – hinting at the fact that Abhi is a part time bar dancer! And when asked about her profession, the carefree girl reveals that she's a Tamil film dubbing artist. This makes it apparent as to why Abhi's mother wants him to stay away from her.
Parineeti is at her hilarious best as a Tamil dubbing artist and we are eagerly looking forward to this slice of life drama where Ayushmann Khurrana narrates the story of his girlfriend, Bindu.
Watch Meri Pyaari Bindu Trailer 4 – Bindu vs. Maa right here –
Just like all the previous trailer, this one too has an iconic yesteryear song playing in the background, Bappi Lahri's Koi yahan aha nache nache. It surely adds masala to the mother-girlfriend encounter.
Catch all three trailers of Meri Pyaari Bindu right here –
Meri Pyari Bindu Trailer Chapter 1 – Samosa Aur Chutney
Meri Pyaari Bindu Trailer Chapter 2 – Gabbar Aur Samba
Meri Pyaari Bindu Trailer 3 – Kalkatte Ki Madonna
See the official movie teaser of Meri Pyaari Bindu
Meri Pyaari Bindu releases on May 12, 2017. Stay tuned to catch the final trailer of the movie, Chapter 5 tomorrow, exclusively on Bollywood Garam!