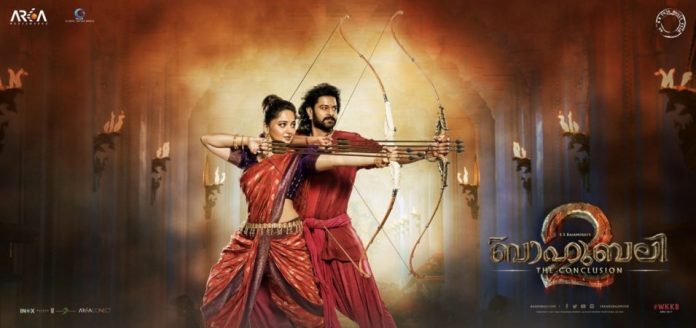 Baahubali 2 Karnataka release controversy has taken a new turn as pro-Kannada groups call for a State wide bandh to protest the film's release on April 28
Comments made almost a decade ago by actor Sathyaraj have put the Karnataka release of
Baahubali 2: The Conclusion
in jeopardy. The actor who plays the key role of Kattappa in the epic historical drama, allegedly voiced anti-Kannada sentiments when speaking 9 years ago about the Cauvery water dispute between Karnataka and Tamil Nadu. A viral video of these controversial comments surfaced about two weeks ago, and has angered regional pro-Kannada organisations who are threatening to stall the release of
Baahubali 2
in the state. They are demanding an unconditional apology from Sathyaraj before the film's release date on 28th April, or else they will enforce a
Bengaluru Bandh (shut down)
and call for state-wide protests on that day.
Tamil Nadu-born actor Sathyaraj's comments came during the height of the dispute over the sharing of river Cauvery's water between the states, but had gone unnoticed until now for some reason. In that time, around 30 of his films have been released in Karnataka without incident, including the blockbuster Baahubali: The Beginning. Director SS Rajamouli has moved to appease the dissenting groups, saying that the filmmakers in no way endorse Sathyaraj's personal remarks. He has appealed to them to not stall the release of Baahubali 2 in the state, as such a move won't affect Sathyaraj as much as it will the film's producers, and fans who won't be able to watch it as a result.
In response to Rajamouli's appeal, Vatal Nagaraj, who heads Kannada Okoota, an umbrella organisation of pro-Kannada groups, said that while they have nothing against the film or Rajamouli, they will continue their protests until they receive an apology from Sathyaraj. The Baahubali 2 team has also visited Bengaluru in an attempt to resolve the issue, asking actor Ambarish and Karnataka Film Chamber president Sa Ra Govind to conciliate, but it seems the angered parties will only allow the film's release once the actor makes a public apology to the people he has offended.
The Karnataka market, which includes the lucrative Bengaluru multiplexes and areas bordering Andhra Pradesh, is key to the financial success of Baahubali 2: The Conclusion. The prequel, released in 2015, is believed to have been the most successful non-Kannada film in Karnataka, and it is the only state where all three versions of the film (Tamil, Telugu and Hindi) are scheduled to be released. While the issue has escalated into a political row and a state-wide shut down (bandh) has been threatened by protesters, producer Shobu Yarlagadda has expressed his hope that they will reach an amicable resolution before Baahubali 2's release on April 28th, 2017.
Stay tuned for more updates exclusively on Bollywood Garam and also read – Third role of Prabhas in Baahubali 2 – The Conclusion revealed!