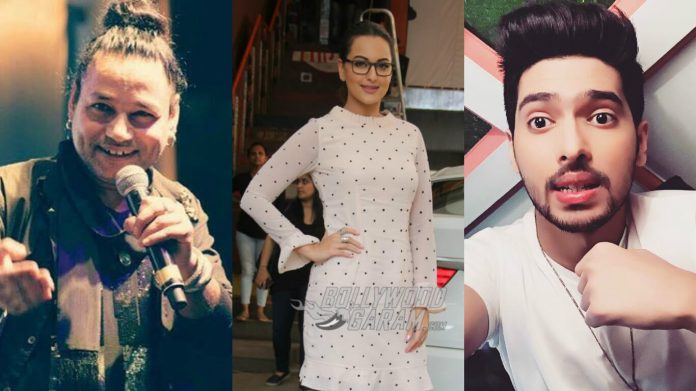 Kailash Kher, Armaan Malik take to Twitter to criticize Sonakshi Sinha's performance with Justin Bieber at the opening act of his Purpose World Tour 2017 in India
The global pop sensation, Justin Bieber's next destination after UAE is India, for Justin Bieber Purpose World Tour 2017 which is scheduled on May 10th in Mumbai. Sonakshi Sinha is slated to perform the first act. But this news has not gone down well with the famous singer/ music composer, Kailash Kher. He felt disappointed about Sonakshi singing in Bieber's concert. He said to IANS in an telephonic interview that, "It doesn't give a good message internationally. They (people overseas) will think that Sonakshi must be a big singer in India. Then she will get concert offers, and then probably Sonakshi will laugh them off saying, 'I am not a singer but an actor." Armaan Malik agreed with Kailash Kher in his tweet saying that, "Actors are actors and singers are singers." Further adding to this twitter war, Sonakshi called Armaan 'insecure'.
It all started when Kailash Kher spoke about the topic in an interview with a website. He said,"I read somewhere that a Canadian singer Justin Bieber is coming to India, and actress Sonakshi will perform at the gig. The news was cute, but quite a lie. It doesn't give a good message internationally."
Further adding to this, Armaan Malik tweeted that, "Agree with @Kailashkher sir! Actors are actors & singers are singers. Leave the stage & mic to us, that's our playground, not yours." Defending herself, Sonakshi reverted on twitter that, "A secure artist would always encourage another artist to grow their skills and follow their dreams. Art in any form should not be suppressed.(sic)"
Armaan brought in light to the world something that all the singers feel in the Bollywood industry saying that, "I agree with you Sonakshi. but I voiced what I felt about how singers are shunned in our country & given lesser importance than actors!!(sic)"
Ms. Sinha then got confused between the Malik brothers and said that, "And this is definitely not the same tune you were singing when you wanted me to sing for you(sic)"
Nowadays, a lot of actresses like Sonakshi Sinha, Alia Bhatt, Shraddha Kapoor and Parineeti Chopra have started singing for their movies. Parineeti has recently made her singing debut with Maana Ke Hum Yaar Nahin for her upcoming movie, Meri Pyaari Bindu. This shows the fast change happening in our music industry. 
Agree with @Kailashkher sir! Actors are actors & singers are singers. Leave the stage & mic to us, that's our playground not yours. ? https://t.co/fAezwNkTDF

— ARMAAN MALIK (@ArmaanMalik22) April 24, 2017
A secure artist wud always encourage another artist to grow their skills and follow their dreams. Art in any form should not be suppressed. https://t.co/hJlm9U6Gk3

— NOOR (@sonakshisinha) April 24, 2017
And this is definitely not the same tune you were singing when you wanted me to sing for you ? https://t.co/hJlm9U6Gk3

— NOOR (@sonakshisinha) April 24, 2017
I Agree with u sonakshi.. but I voiced what I felt about how singers are shunned in our country & given lesser importance than actors!! https://t.co/Gnwshe01GP

— ARMAAN MALIK (@ArmaanMalik22) April 24, 2017
You are mistaking me for @AmaalMallik he is the composer 🙂 https://t.co/7TpVl96EzR

— ARMAAN MALIK (@ArmaanMalik22) April 24, 2017
Photo credits – Armaan Malik official Instagram account / Kailash Kher official Instagram account / Viral Bhayani