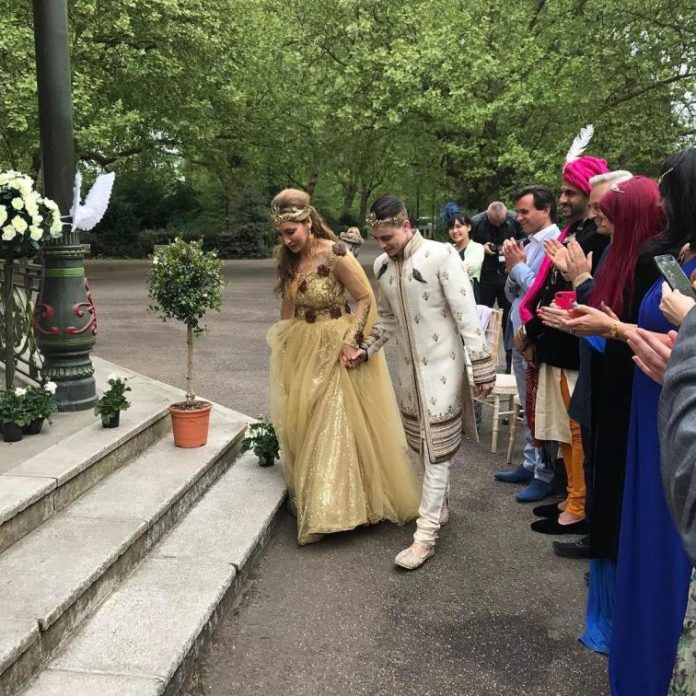 Sofia Hayat and Vlad Stanescu say 'I Do' in a grand Egyptian wedding ceremony
Former VJ, model and actress Sofia Hayat got married in a fairytale-like wedding with her Romanian beau Vlad Stanescu in London on April 24, 2017. The two got married in accordance with Egyptian tradition. The bride and groom, along with their guests, dressed up as royals, keeping with Egyptian mythological Gods and Goddesses.
Sofia Hayat looked gorgeous in a golden gown, while her husband, Vlad Stanescu decided to go the Indian way and wore a traditional sherwani. The former Bigg Boss contestant kept updating her fans and followers about her wedding details a few days prior to the actual wedding day.
The model made headlines in June 2016 when she announced that she had turned in to a nun and said, "I will never have sex, get married nor have children. Since I am the holy mother, everyone's my children. I have to look after everyone and make sure they know there is no hell. It is heaven that they are living in." However, the actress did not stop there and every time found new ways to make news by inking the sacred symbol of the swastika on her feet. However, despite her whirlwind romance with the celebrity interior designer, she still follows some of her own traditions.
Soon the actress gave another shock to her fans when she revealed that she got engaged. Sofia kept her fans update about the progress and slowly revealed about her Romanian interior designer partner Vlad Stanescu. She had said that he was such a traditional man, one who still keeps chivalry alive and well, and that she could not resist falling in love with him almost instantly.
Bollywood Garam wishes Sofia Hayat and Vlad Stanescu a happy, fulfilled marriage! We can't wait to see what their honeymoon pictures are going to be like!
Featured Photo Credits – Hana Instagram Account