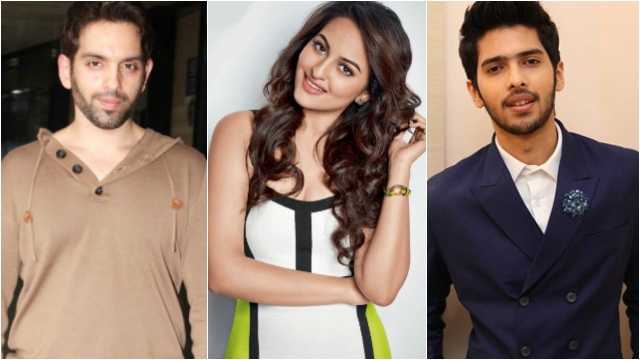 Luv Sinha speaks up for sister Sonakshi against Armaan Malik on Twitter
The Sonakshi Sinha – Armaan Malik controversy has taken a new turn! After Armaan Malik supported Kailash Kher's comments on why actors shouldn't be allowed to sing on stage in place of singers, Sonakshi reverted immediately with a series of responses. This led to a heated discussion and cold war between the singer and actress on Twitter. Now, when Armaan and Sonakshi have called it off, Sonakshi's brother Luv Sinha posted a message on twitter against Armaan Malik siding with his sister.
He wrote that, "An actor that sings isn't trying to steal a singers job. It's like saying I'm trying to steal a photographer's assignment because I enjoy taking photos or I'm going to direct because I understand film making . Maybe the two brothers who think they can criticize others should think about how they perform (Some singers are very good performers though!) when they try to display their "acting" skills in music videos or when they dance on stage. if you don't want actors to sing thats fine, some of them are not good at it but then stick to the radio because my eyes can't handle seeing bad untrained actors trying to emote either. I'm referring to the self appointed guardians of music #Amaal and #ArmaanMalik. Would these two have the guts to call out Mr Bachan or Mr Salman Khan or point a finger at them for singing? At least an actor can't steal expressions, while we all know how good certain music directors have been at stealing tunes or how "live" their performances really are. Many who have risen fast have fallen even faster because of their arrogance and attitude. Let's hope better sense prevails with age and experience and their new found fame doesn't go to their head more than it has. (sic)"
Well, that's not just the end. Armaan noticed and responded back to Luv immediately in the most extraordinary way which made everyone think about it.
The singer wrote that, "Lol. People think that Amaal Malik & I have smart mouths. Yes we do have smart mouths that speak the truth. My brother & I never really cared what "people thought" about us. We are SECURE enough and know our talent. I raised a point not targeted at Sonakshi Sinha or any particular actors who sing in films. Salman Bhai, my mentor, has also sung #MainHoonHeroTera which even I have sung for the film #Hero .. I sang #MereBuddy from Bhootnath as a duet with Mr. Bachchan. Singing in Films is cool and I definitely have no problem with that. But but but actors Singing on International CONCERTS?? .. Nope, not fair to the plethora of Singers/Performers like us in the industry… who definitely know what it means to have an opportunity to perform on stages like that Have you ever seen Brad Pitt opening Michael Jackson's Concert? Nope, it doesn't work that way in the WEST. I'm also very well aware many Actor/singers perform on Broadway Musicals on stage .. but they are professionally trained for that purpose. Anyway , I just feel India should also change its mindset.. and it will soon happen if people just start speaking up for the right things. If your heart and talent is in the right place, nothing can stop you. Huge respect and love to all those who love the ARTS no one can stop or will stop you… as long as you remain true to it. I sing and speak my heart out Onwards & Upwards, No Looking Back. (sic)"
Well, as we can see, the singer has made an important point in his message and we hope that the Sonakshi Sinha – Armaan Malik controversy dies down soon! 
If actors shouldn't sing at all, then certain singers shouldn't ever display their atrocious"acting" in music videos. Stick to the radio 🙂

— Luv S Sinha (@LuvSinha) April 25, 2017
We love your honesty @ArmaanMalik22 ❤️?
We support you not because you're THE ARMAAN MALIK, cause you're right :')
We're so proud of you?✨ pic.twitter.com/jdcZNheSfF

— ARMAAN MALIK FC (@ArmaanMalik24x7) April 26, 2017

Photo credits – Luv Sinha official Instagram account / Sonakshi Sinha official Instagram account / Armaan Malik official Instagram account