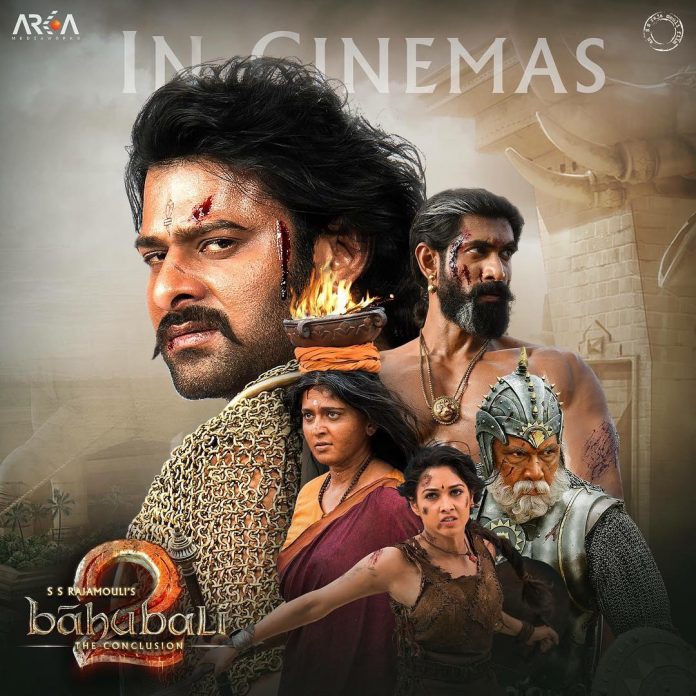 Baahubali 2: The Conclusion, which has been on a record-breaking spree even before its official release – is all set to create a never-seen-before experience
Movie name – Baahubali 2: The Conclusion
Director – SS Rajamouli
Cast – Prabhas, Rana Daggubati, Anushka Shetty, Sathyaraj, Tammanah Bhatia, Ramya Krishnan
Bollywood Garam rating – 4.5/5
The much awaited masterpiece of the year, Bahubali : The Conclusion has hit the screens on April 28, 2017. Director S S Rajamouli's vision is perfectly translated into the movie with the special effects and the sound creating a complete new experience and taking it to a whole new level. Presenting, the much awaited, Baahubali 2: The Conclusion Movie Review –
Baahubali 2 – The Conclusion begins on a fabulous note as flashback episodes roll in during the titles. The introduction scene of Prabhas and Anushka is quite impressive. The first half of the film deals with the love story of Devasena and Amarendra Bahubali and their marriage that takes the story forward to the answer of the big question – Why Kattapa did kill Bahubali?.
Rana as Bhallaladeva performs ravishingly in the second half of the film. The first half of the movie includes a little bit of comedy that makes you think if you are watching Rajamouli's film at all. While the movie is all that you can imagine, in terms of story/plot it is definitely worth watching.
The movie's background score is the soul of the complete movie. The representation of the iconic scene of Kattappa killing Baahubali leaves an impact.
The movie is a continuation in scale. The story picks up from where Kattappa ended in Baahubali: The Beginning and begins with Baahubali entering to tame an elephant. It is even more ambitious than its prequel. The kingdom of Mahishmati now comes across as more richer and fantastic than before. There is more in this imaginary extravagant world, a new city where Baahubali meets his new wife, splendid views of a moonlit war that takes place and eagles carrying messages. There is also an anthem for the Mahishmati kingdom.
Prabhas essays a range of emotions in the film like regal, controlled, authoritative, romantic and a war apparatus with equal ease, whereas Rana Daggubati is seen as channeled hatred, jealousy, strength and bravery against Baahubali.
Nasser and Tamannaah excelled in their respective roles and movie's climax is spellbinding. Stunt actions and sequences were executed under the ace direction of action choreographer and stunt coordinator, Peter Hein. MM Keeravani's music is just as good as in the first part.To know about why Katappa killed Baahubali, stay tuned exclusively on Bollywood Garam!
Watch the public do a movie review of Baahubali 2: The Conclusion after first day first show!