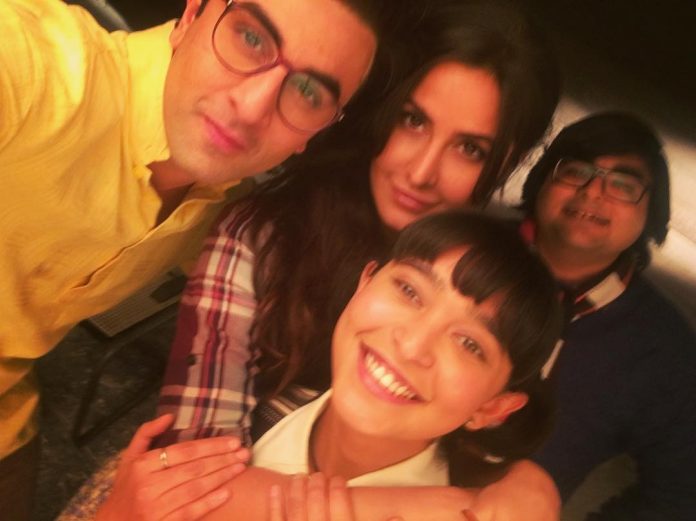 Ranbir Kapoor and Katrina Kaif will soon start promoting their upcoming film Jagga Jasoos
Does it always have to take the promotion of a movie to get exes to work together again? The romance that was between Ranbir Kapoor and Katrina Kaif was the talk of the tabloids, once upon a time. But things didn't work out between the two, and they amicably parted ways. Being the professional artistes that they are, they are committed to at least working together to promote their upcoming flick, Jagga Jasoos. And thank the social media gods, they have posed together for a selfie for the first time since their break-up!
Posted by Sayani Gupta, their co-star on Jagga Jasoos, the pair are seen smiling and looking quite comfy in each other's presence. Sayani captioned the image: "To mark the debut of the goddess on Instagram… here's a blurry memory (thanks to Ranbir) post wrap! @katrinakaif welcome aboard!" Oh, so this photograph was probably taken at the time of shooting of the film, when Ranbir and Katrina were still very much a couple. Sigh.
Sayani Gupta plays a fourteen year old girl in the film. Jagga Jasoos is a musical comedy by Disney India that has been in the works for a while now. The film stars Ranbir Kapoor and Katrina Kaif in the lead. The production of the film started when the two were on more than just friendly terms, but when they parted ways, the film was on a hiatus due to their "conflicting schedules". However, they've finally agreed to put the finishing touches on the film and audiences can once again see their genuine chemistry on the big screen.
Katrina Kaif also made her debut to Instagram. Being the social media recluse that she was before, she is getting more open with her fans. She recently posted an image of her at home, and even went on to invite her fans to come visit her, if she revealed where she stays.
Image Credit: Instagram