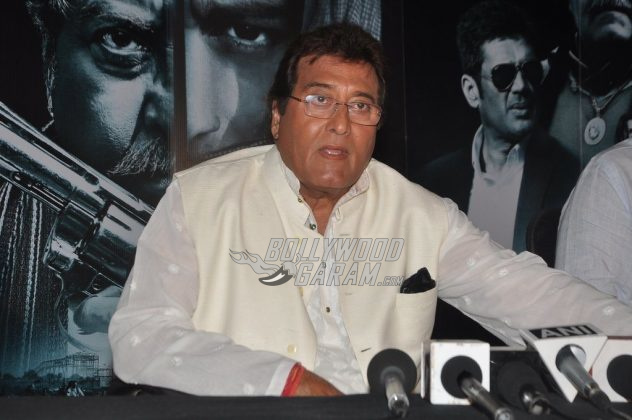 Amitabh Bachchan reminisces his 48 year association with the "swagger" of the late Vinod Khanna
They were the closest of associates and great friends for 48 years. Amitabh Bachchan fondly remembered his close friend, the late Vinod Khanna, who's demise and last rites were conducted yesterday. Big B attended the funeral, wearing a pensive, grief-stricken expression throughout. Today, it seemed that he poured out his heart in a personal, emotional article that was posted on his official blog. During their decades long association, they acted in a number of hit films, the most notable being Amar, Akbar, Anthony, Khoon Paseena, Muqaddar Ka Sikandar and Parvarish, among others. But the private friendship they shared was even more special.
Amitabh Bachchan on meeting Vinod Khanna for the first time: "I first saw him entering the Ajanta Arts office in Bandra, of Sunil Dutt, where I was making my way to seek a job…a most good looking handsome young man…a body in elegant frame…a swagger in his walk…and a gentle smile as he looked towards me…it was 1969…he was working in the Ajanta Arts film 'Man ka Meet'…I was struggling to get a role, any role, anywhere…"
On Vinod Khanna's herogiri even off the sets: "That incident in a restaurant in SoBo, where someone made a snide remark, and he took him on, getting knifed in the arm during the scuffle, but being victorious…"
On them sharing their personal griefs together: "The sudden passing of his father soon after our work together in 'Reshma'…I being with him in his hour of grief…"
"That guilt ridden incident when I had to fling a glass in a scene towards him and it accidentally hitting his chin, cutting him open right through to his teeth…the remorse regret and guilt within me to date for that unforgiving accident…rushing him to his doctor, late at night, getting stitched up, driving with him to his house to settle him in and to just keep apologising for this horrific accidental slip…"
On the kindheartedness Vinod Khanna showed to a newbie Amitabh Bachchan: "The Hotel in Udaipur and our rooms distanced…me away in one lonely corner and he in another…I call him in the middle of the night and express the loneliness…he inviting me over and saying to stay with him in his room…for a newcomer you cannot imagine what this meant to me to be treated like this by a star…"
And finally, on having to watch a close friend lying there as you witness his last rites: "And this afternoon the association of 48 years came to an end…This man…this body of enthused energy and giving…this friend…this colleague…this ever smiling swagger infested individual, lay motionless…"
Read the entire memorial article written by Amitabh Bachchan about the late Vinod Khanna on his official blog.