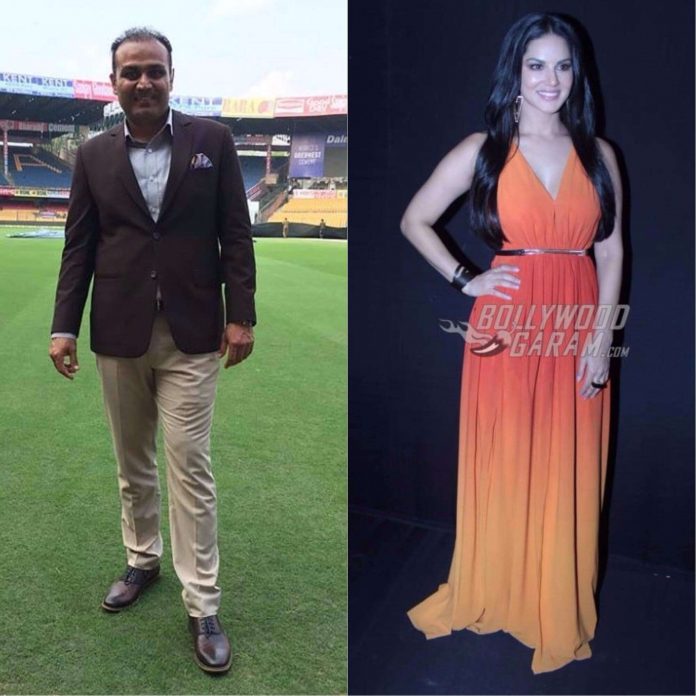 Virender Sehwag accepts Sunny Leone's challenge for IPL commentary on UC News
After doing IPL 2017 commentary with the comedian, Sunil Grover, the sultry Bollywood actress, Sunny Leone was looking for a cricket legend to pair up with for the next phase of her UC News Masala Commentary. And seems like former Indian opener Virender Sehwag has taken up this challenge! The duo will now be seen and heard doing some fun commentary in the upcoming IPL match between Delhi Daredevils and Sunrisers Hyderabad at Ferozeshah Kotla Maidan, New Delhi on May 2, 2017 starting at 8pm!
This is how it all began – 
"Hi guys, I'm looking for a cricket legend as partner for my next #MasalaCommentary on @UCNews_India .Any suggestions?" Sunny posted on Twitter asking for suggestions from her fans.
Sehwag read her post and replied, "Hmm..commentary is going to be really Funny with Sunny. I am ready, aap bhi taiyaar ho jao! Dhamaka ho jayega, kyun?"
Earlier the duo of comedian Sunil Grover and Sunny Leone had paired up for commentary of the match between Kolkata Knight Riders and Kings XI Punjab for UC News.
The UC News Masala Commentary has been a big hit with celebrities like Saif Ali Khan, Preity Zinta, Sunny Leone and Sunil Grover taking the challenge to commentate on cricket matches. Kamaal Rashid Khan and Rakhi Sawant were added to this list when they commentated on the Kings XI Punjab and Gujarat Lions match. Don't forget to catch the match and interesting commentary today!
Hi guys,I'm looking for a cricket legend as partner for my next #MasalaCommentary on @UCNews_India .Any suggestions? https://t.co/GVdEtaX2ur

— Sunny Leone (@SunnyLeone) April 30, 2017
Hmm..commentary is going to be really Funny with Sunny. I am ready, aap bhi taiyaar ho jao! Dhamaka ho jayega, kyun?
:_) https://t.co/SxMSleWQKP

— Virender Sehwag (@virendersehwag) April 30, 2017
Get ready!! Challenge is on aur Masti shuruuuuuuu!!!!!! Hehe https://t.co/7Oz1W1pXB0

— Sunny Leone (@SunnyLeone) April 30, 2017
Aao zara hatt ke commentary karein.See you at 8PM on @UCNews_India app! @SunnyLeone ji..r u ready? #MasalaCommentary https://t.co/1Z8UxAgg8E pic.twitter.com/heAO9CdmgF

— Virender Sehwag (@virendersehwag) May 2, 2017
Haanji Viru paaji…am ready. Let's rock the #MasalaCommentary tonight. Guys, are you ready as well? https://t.co/cDdsK8NMYD @UCNews_India https://t.co/8FOC65H7zq

— Sunny Leone (@SunnyLeone) May 2, 2017
Picture Credits – Virender Sehwag Official Instagram Account | Viral Bhayani