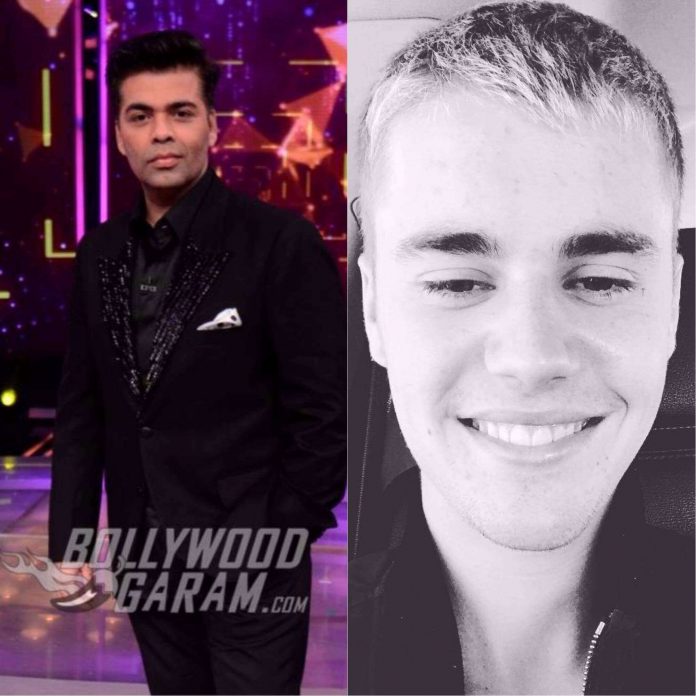 Rumor has it that Justin will sip a cup of coffee with KJo on his celebrity talk-show
The global pop sensation, Justin Bieber is all set for his live-in concert in D.Y. Patil Stadium in Mumbai on May 10, 2017. The rumors have it that in his itinerary of three days, the international singer is to have a cup of coffee with the famous director-producer of Bollywood industry, Karan Johar in his celebrity talk-show, Koffee with Karan.
The show, Koffee with Karan has completed 105 episodes and 5 seasons over 12 years. KJo is to unveil his sixth season with Bieber's show. He has interviewed almost every A-lister of Bollywood from Amitabh Bachchan to Aamir Khan. But this would be the first time he would be interviewing an international celebrity on his show.
A source said that, "This will be the first time an international celebrity of Bieber's calibre will be featuring in an Indian chat show format. Karan Johar is known as the Ellen of India and has conducted interactive chat show dialogues with international celebrities of likes of Richard Gere, Maria Sharapova, Hugh Jackman and Christian Louboutin apart from working closely with Meryl Streep, Robert De Niro, George Clooney at world forum panels."
The source added further, "He will definitely do full justice to this one-on-one exchange if Bieber actually does decide to reserve a time slot for it in his busy schedule." 
Although nothing has yet been revealed regarding the episode. Bieber will be flying to Mumbai for his Purpose Tour on May 10.
Karan Johar is currently celebrating the grand success of Baahubali 2 which broke all the records at the box-office by collecting Rs 1000 crore worldwide.