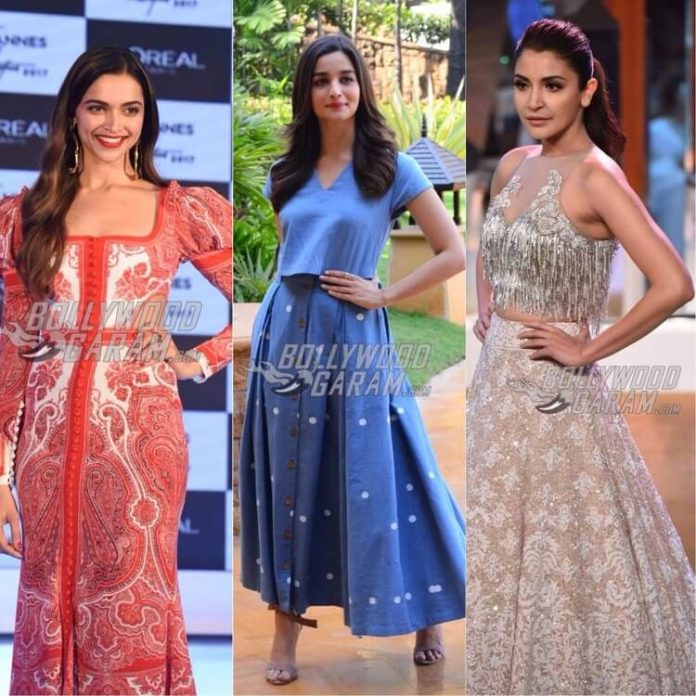 Rumor has it that either Deepika Padukone, Alia Bhatt or Anushka Sharma will star opposite Shah Rukh Khan in Anand Rai's yet-to-be-titled film
Superstar, Shah Rukh Khan will soon be seen in Anand L Rai's next movie in which he will play the role of a dwarf! The preparation for his character has already begun and Shah Rukh Khan has assured hus fans that it will be nothing like Kamal Haasan's look as a dwarf in Appu Raja.
This is the first time the 51-year old actor has collaborated with the Tanu Weds Manu director for a film and it is also the first time that he will be seen playing the challenging role of a dwarf! Talking about his role, Shah Rukh Khan said, "My look is very different from Kamal Hassan's in Appu Raja. We have done the test, we are through with the trailers. We will be releasing it properly. It's important that the audience accepts our effort. I think we will begin work in a few days."
According to the reports, the film is titled Bandhua but SRK says that the title is yet to be finalised. Shah Rukh Khan's fans, who are eagerly waiting to see King Khan play the role of a dwarf have titled the project dwarf film and director Anand is not too happy about it.
In a recent interview, he said that, dwarf is not a character, it just defines the size of the character. He also says that just like his other films, Tanu Weds Manu and Raanjhana, this film will also tell the story of a man and woman. It will not be a story of a dwarf, but it will be more about a short man.
While the film was initially due to go on floors from March 21, shooting is still on hold as makers haven't finalized the second actress yet. While Katrina Kaif has been signed on for the film – rumors have it that Sonam Kapoor too will be working on this film. A leading entertainment site was quoted saying, "She is Aanand L Rai's favourite actress and he wanted to cast her in his next, where Khan plays a dwarf. Katrina has already been signed for one role in the film, and another actress is yet to be cast. It is learnt that she even messaged SRK. Sonam feels pretty deflated that he doesn't share her excitement about working together. Now, the actress has given up the idea of working with Shah Rukh with grace and feels if he wants to work with her, he will."
There are also reports which suggest that either Alia Bhatt or Deepika Padukone will join SRK and Katrina in the film. Deepika states that she is busy with her schedule of Padmavati so she refused to work in the film. Alia has also not yet been finalised for the project either which means that the hunt for the second actress is still on.
A spokesperson from Anand L Rai's team clarified to a source that, "A lot of names have been thrown in but at the moment the female lead has not been finalised. The casting is underway and is taking time as it is a difficult role, in fact one of the most challenging that Anand has ever worked on. The role needs a lot of prep time as well as shoot time for which a substantial chunk of dates are required. It's not just about finishing this film but making it."
Anand Rai and Shah Rukh Khan's next best choice after Deepika Padukone is said to be Anushka Sharma. There have been rumors that the director will approach Anushka for the film. A source said that, "Anand and SRK met a few nights ago and discussed the possibilities. After Deepika said no to the film, they have offered it to Anushka. They will also be sitting for a narration together and give her a script reading either later this week or early next week. Anushka will hear it and decide if she wants to do it. But she is their first choice now, after DP."
Anand L Rai's film starring Shah Rukh Khan is slated to release on December 21, 2018. Stay tuned for more updates on this project exclusively on Bollywood Garam!
Picture Credits – Viral Bhayani