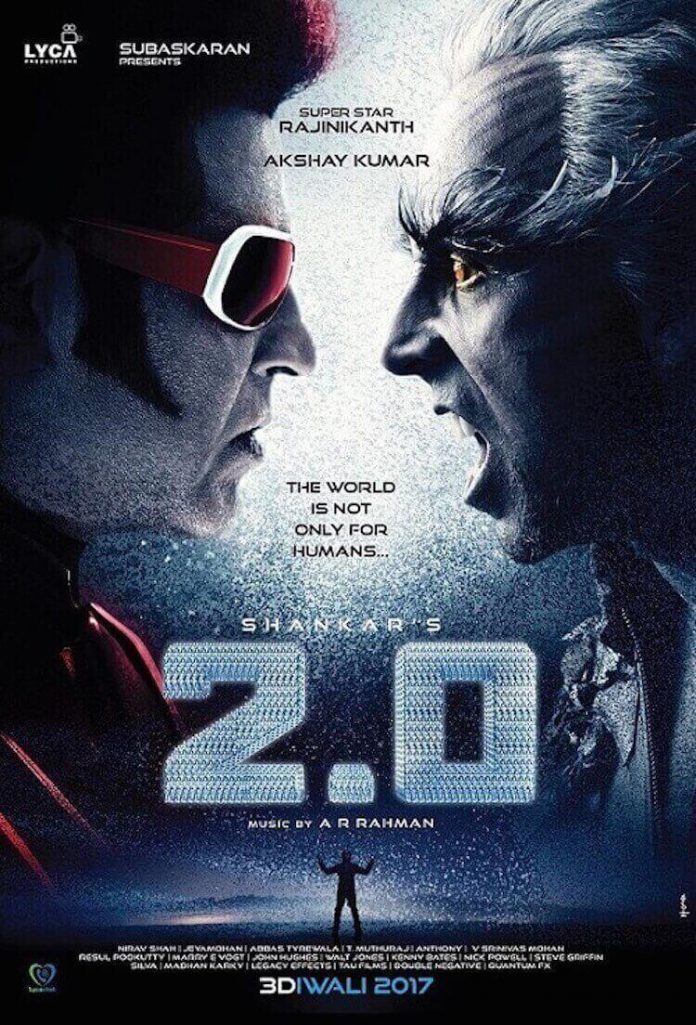 S. Shankar's 2.0 release date postponed to January 25, 2018
Upcoming science fiction film, 2.0 is a sequel to the 2010 Tamil film Enthiran, and features Rajinikanth in lead roles of Dr. Vaseegaran and Chitti. It also stars Akshay Kumar and Amy Jackson in important roles. The film will have a simultaneous release in Tamil, Telugu and Hindi. It's estimated budget is of Rs. 450 crore. It is the most expensive Indian film to date.
Akshay Kumar is to play the role of a villain, going by the first-look poster. Written and directed by S. Shankar the movie also stars Sudhanshu Pandey, Adil Hussain, Kalabhavan Shajohn, and Riyaz Khan in supporting roles.
Made on a very high budget the film is said to beat the records of Baahubali as well. Prabhas's Baahubali 2: The Conclusion collected more than Rs. 1000 crore in just two weeks. Now it will be intriguing to see if Rajinikanth's 2.0 can beat that score!
Here's why we expect 2.0 to beat Baahubali's score at the box office –
2.0 Rajinikanth film
So of-course, a Rajinikanth film has to be super hit. Rajinikanth, himself is a big brand in Indian Cinema and he is the best in Tollywood.
2.0 a sequel to Robot / Enthiran
Robot, released in 2010 was a blockbuster film. 2.0 is a sequel to the film Robot. It starred Rajinikanth as Dr. Vaseegaran (hero) and Chitti (villain) and Aishwarya Rai as the lead heroine.
Akshay Kumar as villain
By the looks of the poster, it seems that Akshay Kumar is the villain of the film. He is unrecognisable in his fierce evil look. Akshay will make his debut through this film in Tamil Cinema.
2.0 India's biggest Sci-fi thriller till date!
So it is expected to be the best sci-fi thriller of Indian Cinema. The graphics, special effects and vfx is reportedly at par with that of Rajamouli's Baahubali 2!
In an interview with Firstpost, script writer B. Jeyamohan revealed that his main role was to implement director B Shankar's vision of the film. He said that, "The other thing I have to do is come up with dialogues for which Shankar provides the feel. It is Shankar's baby all the way. Shankar comes up with the basic one-liner that serves as the template for the story. There is something called designing a movie and he does it the best. You can expect everything that is usually in a Rajinikanth movie and more."
Nirav Shah is the DOP of the film and Anthony, the editor, both of them being first rate technicians in Tamil Cinema. Also A.R.Rahman and Resul Pookutty, the Oscar Winners will compose the soundtracks for the album.
The release date of 2.0 has been postponed from Diwali 2017 to January 25, 2018. Raju Mahalingam had announced on his official Twitter page that, "Our most ambitious project, Shankar's 2.0, shifts to 25 Jan 2018. It moves from earlier Diwali release to achieve world class standards in VFX ." 
Stay tuned for more updates on 2.0 as we leave you with this soul stirring poster of Akshay Kumar from the movie –
Picture Credits: Akshay Kumar Official Instagram Account