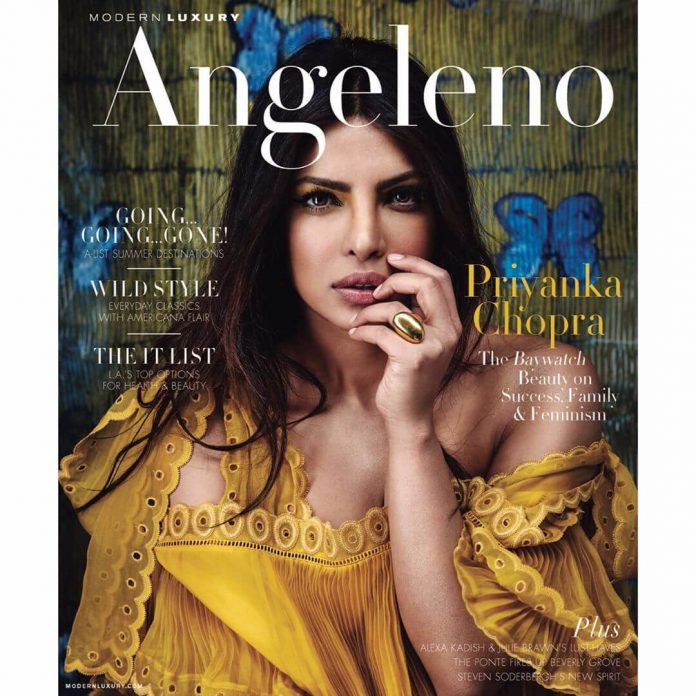 Pee Cee takes the internet by storm after featuring in six magazine covers of Modern Luxury Magazine!
Priyanka Chopra's relationship with the camera will give anyone a run for their money. And she has proved this yet again after a series of photoshoots for a leading magazine. She will be featured on the cover for May issues of the six magazines by Modern Luxury. Having been associated with Hollywood for her TV series Quantico and upcoming movie Baywatch, this photoshoot was another dazzling addition to her kitty. This B'town damsel has left everyone in awe, not that we were not in love with her already.
Talking about her different looks from the shoot, the spell binding actress donned a bohemian yellow ruffled top for the Angeleno magazine, an orange tube gown for the Modern Luxury Orange County, a black and white sheer dress for the Modern Luxury San Diego, a deep neck ballon sleeved black dress with a blue-green feathered statement belt for Miami, a flowy gown in various shades of blue for CS and lastly a full sleeved black blouse paired with vertically striped slit skirt and pointy boots for DC.
After being crowned Miss World, acting did not come easy to this sexy actress. As revealed by a leading daily, Priyanka said that "nobody knew I could act. I didn't know I could act. When you're casting Miss World in a movie, it [makes] business sense. So, I learned on the job. Everything I have learned today has been on the job." She further added an instance of sexism she faced in the industry saying "Once, a producer told my manager that if I couldn't adjust dates according to the male actors, then I would be replaced because women are replaceable in films when there's a big male actor. I was replaced, and it felt terrible… Instances like that made me think about how I could be irreplaceable. What could I do to make myself strong enough [that] no one would have the audacity to say that to me or do that to me again?"
The actress along with amazing talents also has a heart of gold. She is the Goodwill ambassador of UNICEF and shared photos from her recent visit to Zimbabwe where she interacted with violence survivors. Talking about her work, she is currently busy promoting her movie Baywatch which releases in July 2017.
See exclusive pictures from Priyanka Chopra's sizzling Modern Luxury Magazine photoshoot –
Photo Credits – Priyanka Chopra's and ANGELENOMAGAZINE's official Instagram account