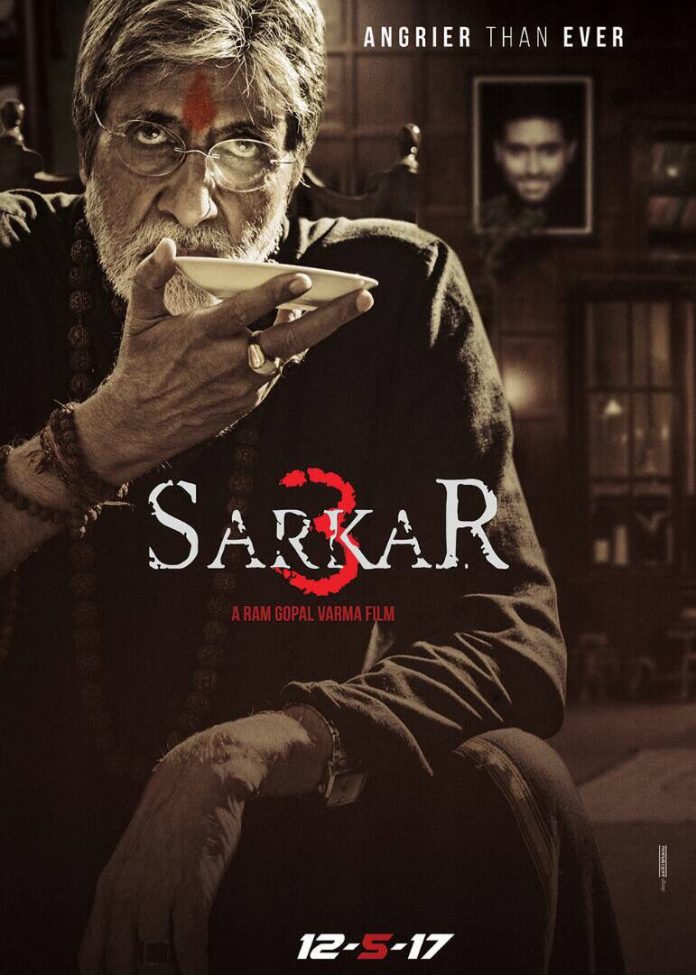 Sarkar 3 unites us with the character of Subash Nagre, who is a fictionalized version of Bal Thackeray
Movie name – Sarkar 3
Director – Ram Gopal Varma
Cast – Amitabh Bachchan, Amit Sadh, Yami Gautam, Manoj Bajpayee, Ronit Roy, Jackie Shroff, Rohini Hattangadi
Bollywood Garam rating – 2.5/5 
Amitabh Bachchan starrer Ram Gopal Verma's third one in the series, Sarkar is released on May 12, 2017. Sarkar 3 also casts Yami Gautam, Amit Sadh, Manoj Bajpayee, Jackie Shroff, and Ronit Roy. The film unites us with the character of Subhash Nagre aka Sarkar, who is a portrayal of fictionalized version of Bal Thackeray, which Amitabh Bachchan played first in 2005.
Sarkar 3 is a thriller that reduces politics to mere gunfights and verbal exchanges. Amol Rathod, the director of photography worked with great enthusiasm but failed to offer the audience everything complete. The shots seemed to be fractured and incomplete.
Big B aka Sarkar, in his black robes, white beard and rudraksh beads around the neck was both respected and feared by his people and enemies. He is not an elected representative but has the power of that who sits in the Mantralaya.
In the film, the number of enemies has increased and at each step, Sarkar faces a new challenge. The list of enemies includes Manoj Bajpayee, Rohini Hattangadi, and Jackie Shroff. Mr. Bachchan had the young Amit Sadh as his grandson, Shivaji in the film.
Amit Sadh aka Shivaji Nagre plays the role of a dark moody grandson. "If a pack of dogs gets together, they can kill a lion," he tones in the film.
While Sarkar tries to stand firm in his mission to protect his hard-earned political stature, enemies try to dethrone him and sow the seeds of distrust amongst his most trusted men.
The plot driven by wistful Shubash Nagre, who has survived six dangerous attacks on his life but never stopped fighting, revolves around a new construction project planned in Dharavi East. Fifteen thousand residents of the place had to be expelled in order to start the construction. The builders go to Sarkar for help but he refuses and by doing so he opens up a new battlefield.
Yami Gautam, who plays the role of a daughter of an entrepreneur whose death Sarkar is suspected to have ordered comes up to fight. She shoots glazed looks in the direction of nothing in particular and resembles a mechanical mannequin running on empty.
Right across from Subash Nagre's seat of authority is a grey sculpture of a dog. The camera hovers over the statue every now and then. By the time, the film walks its way towards the business end, the animal metaphors gather urgency. "A gang of rats cannot harm a cat, let alone slay a tiger," Sarkar roars as his trusted man Ronit Roy aka Gokul informs him about his enemies' closed ranks. Later, Sarkar elaborates on that thought saying that, "A dog in a lion's skin is still a dog."
In keeping with the animal instincts of the film's dramatic personae, lion, tigers, dogs, cats and rats receive more than their rightful share of attention in the killer punch lines that the enemies throw at each other.
There were more of mouth long-winded dialogues rather than effective punch lines that the characters hurl at each other unlike the previous editions of Sarkar. One could just say that it was better than Ram Gopal Verma's Aag.
Sarkar 3, in the end, is an Amitabh Bachchan show all the way. No matter how the situations and proceedings occur, Sarkar 3 remains a political series after Sarkar and Sarkar Raj.