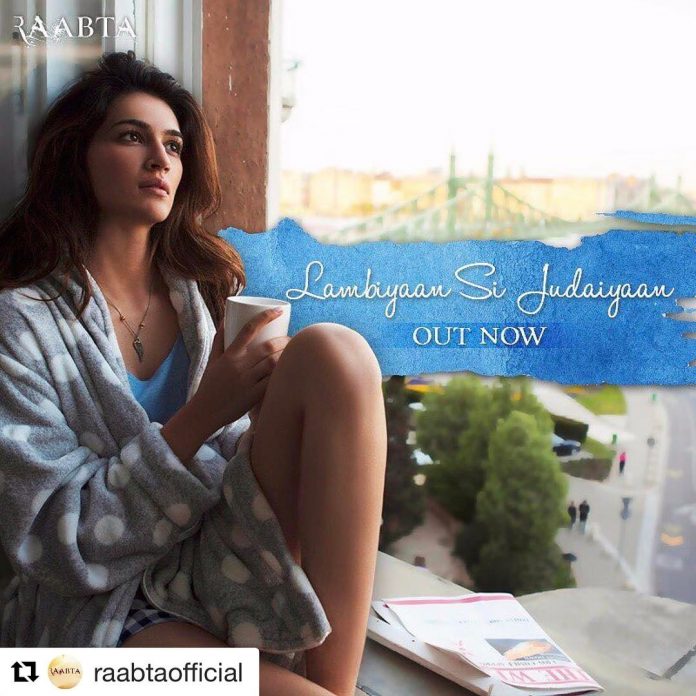 Lambiyaan Si Judaayian is a painful yet beautiful journey of two lovers parting ways
The latest song from Sushant Singh Rajput and Kriti Sanon's Raabta is out! Titled Lambiyaan Si Judaayian, the song has been sung by the king of romantic songs – Arijit Singh and shows the painful separation of the lead characters of the film. The song takes off from the same visuals where Deepika Padukone's sizzling Raabta title track ended. In Raabta's title track, one is taken through, what looks like an engagement between lead actress Kriti Sanon and antagonist (villain) Jim Sarbh as Deepika performs a sensuous number as a part of the celebrations.
But Lambiyaan Si Judaayian shows the painful separation Kriti and Sushant's characters go through as the former ditches her long time lover to get engaged to someone else. Painful yet romantic, the song is scattered with throwback visuals from all the good times the two spent together. A hard hitting visual from the official music video is when Kriti returns Sushant's ring just before she get's engaged to her present lover. But as one reaches the end of the video, it's hard not wonder about why is it that the two are parting ways anyways? One can clearly see that Kriti's character seems helpless as she parts ways with her former lover – is she trapped? Is she being threatened?
Seems like we will find out only when Raabta releases on June 9, 2017. Till then, enjoy the official music video of Lambiyaan Si Judaayian, featuring Sushant Singh Rajput, Kriti Sanon and Jim Sarbh –
Lambiyaan Si Judaayian has been released by T-series on May 16, 2017. Sung by Arijit Singh, the music has been composed by JAM 8 and lyrics have been written by Amitabh Bhattacharya. Stay tuned for latest updates on Kriti and Sushant Singh Rajput's first movie together exclusively on Bollywood Garam!
Read all about Rajkumar Rao's guest appearance in Raabta as a 324 yrs. old man
Photo credits – Instagram